This unique fresh avocado recipe will up the fun (and yum!) factor for snack time.
Nutritious, kid-friendly, and easy-to-make, these mini sushi donuts made with a colorful array of ingredients, provide both fiber and protein. Plus, this is a great way to incorporate nutrient-dense fruits like avocado, which contribute nearly 20 vitamins and minerals. It's sure to be a recipe the whole family will love.
---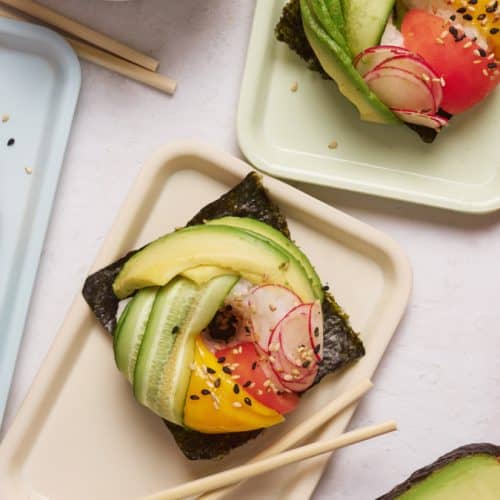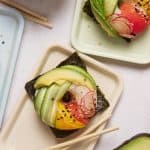 Prep Time 25 minutes
Cook Time 20 minutes
Ingredients
Sushi Donuts
1 3/4 cups cooked sushi rice 
2 tablespoons rice vinegar
2 teaspoons maple syrup 
1/4 teaspoon sea salt
1 small Persian cucumber
2 small radishes
1/2 small mango
1 ripe, fresh avocado, halved, pitted, and peeled  
1 whole Roma tomato
1 tablespoon black and white sesame seeds
1 1/2 sheets toasted nori seaweed, cut into quarters for serving (optional)
Citrus Soy Dipping Sauce
1 tablespoon fresh lime juice 
2 tablespoons orange juice, squeezed from a fresh orange
2 teaspoons maple syrup
3 tablespoons reduced sodium soy sauce
1/2 green onion, green parts only, thinly sliced (optional)  
Directions
For The Rice: Cook the rice according to package directions. For best results, cook the rice in a rice cooker.

While the rice is cooking, in a small bowl combine the rice vinegar, maple syrup, and salt. Set aside while you prepare the toppings.

For The Toppings: Using a mandolin slicer on the slimmest setting, slice the cucumbers very thinly lengthwise into about 4-inch-long ribbons and then slice the radishes into very thin rounds. Peel and thinly slice the mango into long strips and peel and cut the avocado into very thin slices. Place cucumber, radish, mango and avocado slices into separate prep bowls. 

Using a sharp paring knife, slice the tomato in half and then into thirds, removing the peel, core, and seeds. Place tomato pieces into a prep bowl.

For The Sauce: Combine the lime and orange juices, maple syrup, soy sauce, and green onions, if using, in a small bowl and set aside. 

For Assembly: Ensure your cooked rice is now at room temperature and then add it to a medium bowl and with a sushi paddle or wooden spoon, and gently fold in the vinegar mixture until well combined. 

Press the sliced avocado, cucumber, mango, tomato, and radishes into the bottoms of a donut mold. Add a splash of water to a small bowl. Using your hands, dip your fingertips into the bowl of water to prevent the rice from sticking to your hands. Gently press the sushi rice onto the sliced ingredients in the molds, making the top of the rice tightly packed and flat across the back of the mold. Carefully place the molded donuts in the refrigerator for at least 5 minutes to firm up. 

Remove the donuts from the refrigerator and place a flat plate or tray on top of the mold. Flip it over, and carefully remove the donuts from the molds, toppings side upward. 

Sprinkle sesame seeds on the donuts. Place each donut onto a square sheet of seaweed, if using, and serve alongside the citrus soy dipping sauce. 
Nutrition
Calories: 160kcal | Carbohydrates: 28g | Protein: 3g | Fat: 4.5g | Saturated Fat: 0.5g | Cholesterol: 0mg | Sodium: 390mg | Fiber: 3g