Perfect for breakfast or brunch, these easy-to-prep baked avocado egg boats are packed with nutrients and flavor that will fuel you for hours.
Choosing simple food combinations for breakfast or brunch doesn't have to be boring! With the right baking methods and the addition of herbs and spices, you can appeal to your taste buds while also nourishing your body. The mix of ingredients in this recipe offers healthy fats and protein to keep you satisfied well after your meal. You can also pair the avocado egg boat with a slice of whole-grain bread for high-quality carbohydrates to sustain your energy even longer.
Nutrition Benefits of Avocado Egg Boats
Packed with 7 grams of protein and 5 grams of fiber per serving, these baked avocado egg boats will satisfy your taste buds as well as your appetite. 
Health Benefits of Avocado
They start with avocados, which are a good source of fiber that can help control blood sugar and cholesterol levels. Avocados provide more than 20 different vitamins and minerals (like vitamin C and potassium), as well as heart-healthy unsaturated fats, which help keep you fuller for longer. One study published in the journal Nutrients suggests that replacing some carbohydrates in a high-carbohydrate meal, with fat and fiber from avocado, can help with appetite management and increase feelings of satiety (fullness). That means you're less likely to be hit with any pre-lunch or mid-day "hanger" when you've got these on hand.
Health Benefits of Eggs
What makes this recipe even better is the fact that nestled in each avocado half is a whole egg. Eggs are the perfect package of protein, fat, and nutrients, including vitamin D and choline (both of which are important for brain health), as well as zinc. Zinc is essential for immune function, wound healing, and may help reduce inflammation. Plus, eggs are affordable, accessible, and oh so versatile.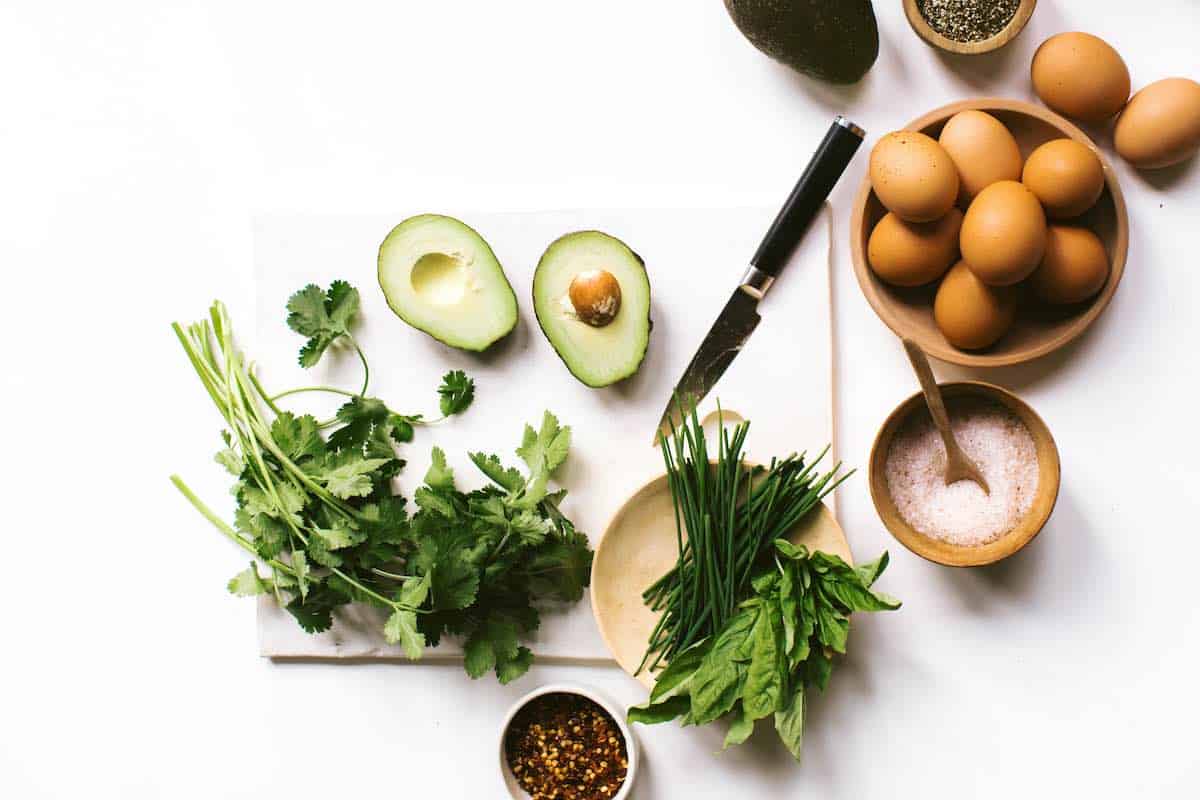 How to Make Baked Avocado Eggs
Best of all, this recipe couldn't be easier to prepare. With only a handful of ingredients and minimal kitchen tools, adding this recipe into your weekly repertoire will make your mornings easier without costing you much time or money. Simply slice the avocados in half, remove the seed, and scoop out enough of the flesh to make room for the eggs (feel free to eat any extra avocado you scoop out!), and let your oven do the work. Once baked, sprinkle with fresh herbs like chopped chives, cilantro, or basil, and enjoy. 
---
Prep Time 5 minutes
Cook Time 15 minutes
Total Time 20 minutes
Ingredients
2 avocados, halved and seeded
4 medium eggs
1/2 teaspoon kosher salt
1/2 teaspoon freshly ground black pepper
2 tablespoons chopped fresh herbs, such as chives, cilantro, or basil
Directions
Preheat the oven to 350°F. 

Slice the avocados in half, lengthwise and twist to separate. Remove the pit and scoop out about 2 tablespoons of avocado flesh, creating a larger cavity. 

Place the avocado halves in a baking dish, to keep them upright, and gently crack one egg into each whole, keeping the yolk intact. Repeat with remaining eggs; season with salt and pepper, to taste.

Place into oven and bake until the egg whites have set but the yolks are still runny, about 15-18 minutes.

Sprinkle with fresh herbs, as desired, and serve immediately.
Nutrition
Calories: 180kcal | Carbohydrates: 6g | Protein: 7g | Fat: 15g | Saturated Fat: 3g | Cholesterol: 165mg | Sodium: 350mg | Fiber: 5g