This cast iron egg bake is packed with green foods that provide powerful plant-based compounds, offering a nutritious breakfast option to start the day.
---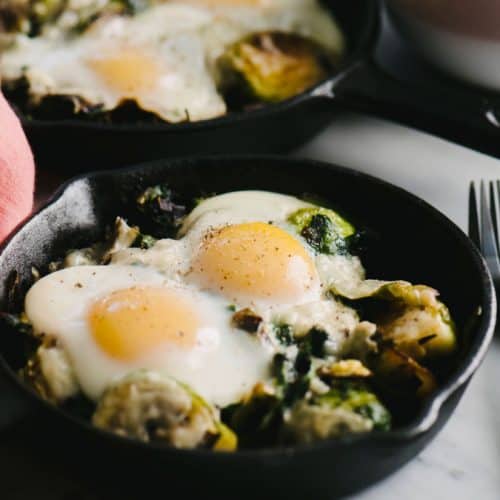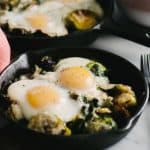 Ingredients
1 tablespoon extra-virgin olive oil
1 leek, white part halved and thinly sliced
2 cups Brussels sprouts, ends trimmed and halved
¼ teaspoon kosher salt
¼ teaspoon red chili pepper flakes
1 clove garlic, minced
½ teaspoon fresh thyme or rosemary, chopped
3 cups baby spinach leaves
4 large eggs
1-ounce Gruyere cheese
Directions
Preheat the oven to 400°F. 

In a large cast iron skillet, heat the oil over medium heat. Add the leeks and Brussels sprouts and sauté until tender, about 7 minutes, stirring occasionally. Season the vegetables with salt and chili flakes, and stir in the garlic and thyme in the last 2 minutes of cooking. Remove skillet from heat.

Add the water and spinach to the skillet and gently crack the eggs over the veggies. Season the eggs with salt and pepper and sprinkle over with grated Gruyere cheese. Bake in the oven until the egg whites are set and the yolks are velvety and just barely runny, about 10-12 minutes. Enjoy warm.
Nutrition
Calories: 160kcal | Carbohydrates: 6g | Protein: 11g | Fat: 11g | Saturated Fat: 3.5g | Cholesterol: 195mg | Sodium: 300mg | Fiber: 3g