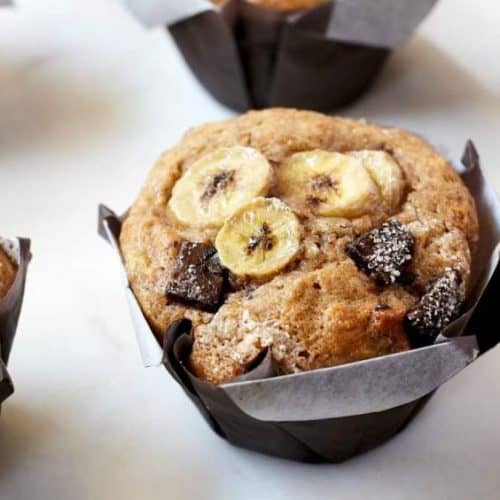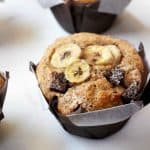 Ingredients
1 1/4 cups all-purpose flour
1 cup whole-wheat flour
2 teaspoons baking powder
1 teaspoon baking soda
1 1/2 teaspoons kosher salt
2 large eggs
1/3 cup sunflower oil
2/3 cup Sugar In The Raw Organic White + 1 tablespoon for sprinkling on top
1/2 cup whole plain Greek yogurt
3/4 cup low-fat buttermilk
2 teaspoons vanilla extract
5 ripe bananas, 4 mashed by hand and 1 sliced for the muffin tops
3 1/2 ounces chopped dark chocolate, 60% to 70% cocoa
Directions
Preheat the oven to 350°F. Line two medium-sized muffin tins with 14 paper cupcake liners, spacing them evenly between two pans.

In a large mixing bowl, combine the flours, baking powder, baking soda, and salt. In a smaller mixing bowl, whisk the eggs lightly. To the eggs, add the oil, sugars, yogurt, buttermilk, and vanilla extract, whisking until they are well combined. Pour the liquid ingredients into the dry, add in 4 mashed bananas, and whisk just until blended. Fold in the walnuts and half of the chopped chocolate.

Spoon the batter into the prepared muffin tins, filling cups almost to the top. Top each muffin with some chocolate chunks and a few banana slices. Sprinkle the tops of the muffins with a tablespoon of sugar.

Bake for 25 to 30 minutes, or until the muffins are deep golden brown and spring back lightly when pressed gently in the center. Immediately turn the muffins onto a wire rack to cool. Muffins will keep well in an airtight container for up to 2 days, or in the refrigerator for up to 4 days.

Note: If you prefer not to use stevia, simply double the sugar in the recipe (to 2/3 cup sugar) + 1 tablespoon for sprinkling on top.
Nutrition
Calories: 300kcal | Carbohydrates: 36g | Protein: 7g | Fat: 15g | Saturated Fat: 3g | Cholesterol: 30mg | Sodium: 420mg | Fiber: 4g | Sugar: 18g