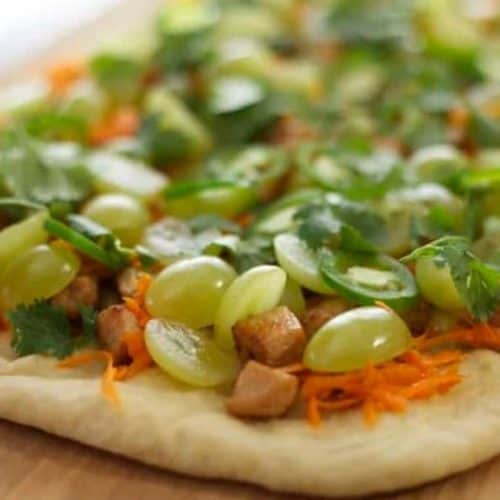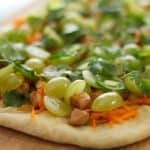 Ingredients
1 (14-ounce) package prepared pizza dough
1 tablespoon olive oil
1 tablespoon minced garlic
1 tablespoon lemongrass paste
12 ounces chicken breast, cut into 1/2-inch pieces
2 tablespoons low-sodium soy sauce
1/2 cup shredded carrots
1 tablespoon rice vinegar (unseasoned)
2 cups halved green seedless California grapes
1/4 cup coarsely chopped fresh cilantro
1 jalapeño pepper, very thinly sliced (remove seeds for less heat)
Directions
Roll the pizza dough into a 10×14-inch oval on a lightly floured board. Transfer it to a baking sheet. Bake at 450°F for 8 to 10 minutes, or until lightly browned.

Meanwhile, heat the oil in a medium skillet, and stir in the garlic and lemongrass paste; cook for 1 minute. Add the chicken and soy sauce; stir-fry over medium-high heat until the chicken is cooked through. Place the carrots in a small bowl and stir in a pinch of sugar and the vinegar.

Spread the chicken mixture over the baked dough, then sprinkle it with the carrots, grapes, cilantro, and jalapeño slices. Cut the flatbread into 8 square pieces.
Nutrition
Calories: 418kcal | Carbohydrates: 55g | Protein: 22g | Fat: 12g | Saturated Fat: 1g | Cholesterol: 44mg | Sodium: 357mg | Fiber: 2g