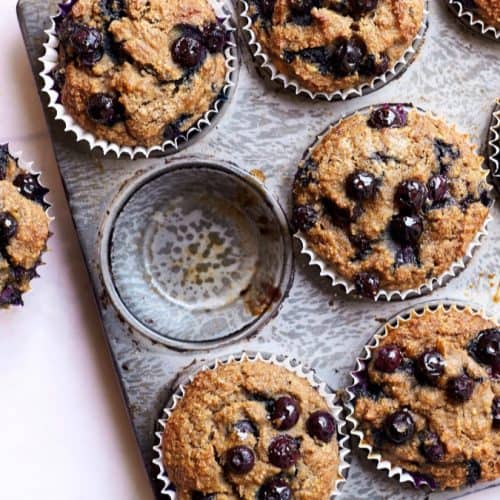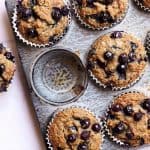 Ingredients
3 ½ cups super-fine blanched almond flour (such as Bob's Red Mill)
1 cup oat flour
2 ¼ teaspoons baking soda
1 teaspoon sea salt
3 cups mashed ripe bananas (from 6 large bananas)
3 tablespoons vegetable oil
2 tablespoons honey
5 large eggs
2 teaspoons pure vanilla extract
3 cups fresh blueberries
1 tablespoon sugar or honey, for sprinkling or drizzling over top (optional)
Directions
Preheat the oven to 350°F. Line one jumbo-sized muffin tin with 12 paper muffin liners.

In a medium mixing bowl, add 3 cups of mashed bananas, oil, honey, eggs, and vanilla extract and whisk until combined. Using a spatula, stir in the dry ingredients until evenly incorporated and smooth.

Fold in 2 cups of the blueberries and spoon the batter into the prepared muffin tins, filling cups almost to the top. Top each muffin with a few more of the remaining blueberries. Sprinkle the tops of the muffins with a little sugar (if using) or drizzle the tops with honey just before baking.

Bake for 30 minutes, or until the muffins are deep golden brown on the top and spring back lightly when pressed gently in the center. Immediately turn the muffins onto a wire rack to cool.

Notes: Muffins taste best enjoyed day of, but they will keep well in an airtight container for up to 2 days, or in the refrigerator for up to 4 days. To ensure the muffins are gluten-free, choose a gluten-free oat flour.
Nutrition
Calories: 360kcal | Carbohydrates: 38g | Protein: 14g | Fat: 18g | Saturated Fat: 2.5g | Cholesterol: 80mg | Sodium: 460mg | Fiber: 7g