These gluten-free blueberry muffins are packed with fiber and healthy fats that will tame your hunger. Plus, the natural sugars from fruit and honey will satisfy your sweet tooth.
Think you can't have a muffin that's healthy and delicious? Think again. These muffins give traditional muffins a facelift by using a combination of almond flour and oat flour instead of white flour. Both flours are gluten-free alternatives that pack a nutritional punch but still maintain that "sink-your-teeth into" texture that makes muffins so craveable.
Oat Flour vs Almond Flour
But what makes almond flour and oat flour … flours? Both are simply the ground-up version of their main ingredients: almonds and oats. Almond flour offers a slightly sweeter and nuttier flavor, while oat flour adds a silky texture that works like traditional flour. Almond flour is grain-free, while oat flour is 100% whole grain.
How to Choose the Right Type of Almond Flour
When buying almond flour, keep your eyes peeled for terms like "blanched" or "unblanched" and "almond meal" or "almond flour." Blanched almond flour (made by boiling, draining, and removing the skin from the almond) has a finer, smoother, and lighter texture that's perfect for baked goods like muffins, macaroons, and scones. Unblanched almond flour (often labeled "almond meal") has the skin still intact and is more coarse – preferable for crusts, crumbles, and crackers.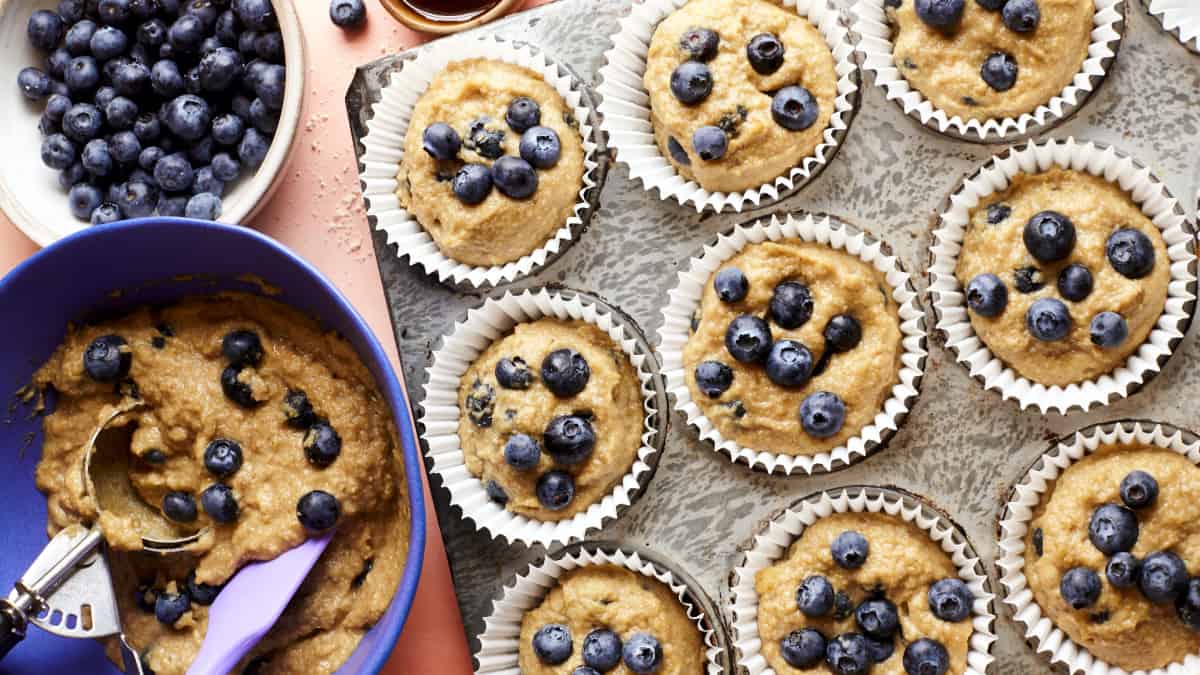 Nutritional Value of Almonds
Just a 1-ounce serving of almonds (about a handful) packs 3.5 grams of fiber, 6 grams of protein, and roughly a third of your recommended daily doses of vitamin E and manganese. Plus they have polyphenols and other antioxidants that are largely concentrated in their skin.
Nutritional Value of Oats
And what about oat flour? Oats are a good source of dietary fiber, which helps to explain why they've been shown to reduce the risk of coronary artery disease by keeping LDL, or low-density lipoprotein levels (the "bad" cholesterol) in check. Oats also fill us up without weighing us down. 
They are a great alternative for individuals with gluten intolerance. Oats contain avenin, a protein that has a similar chemical structure to gluten. However, in most cases, this doesn't cause a reaction in individuals who are gluten-free or have celiac disease. As an extra safety measure, you can buy gluten-free oats, which eliminates the risk of any cross-contact with gluten-containing grains in the manufacturing process
Naturally Sweetened Muffins
Beyond their upgraded base, these gluten-free blueberry muffins are packed with bananas and berries that offer just enough natural sweetness, plus eggs and oil that make them perfectly moist. The cherry on top? You can even add a dash of your favorite sugar for an extra dose of deliciousness.   
---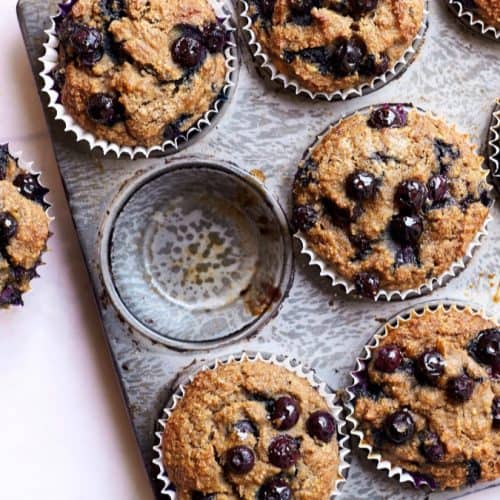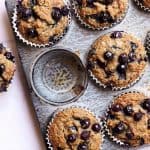 These gluten-free blueberry power muffins offer more than just a fix for your sweet tooth. They provide antioxidants, healthy fats and fiber to keep your energy tank full.
Prep Time 10 minutes
Cook Time 30 minutes
Total Time 45 minutes
Ingredients
3 ½ cups super-fine blanched almond flour (such as Bob's Red Mill)
1 cup oat flour
2 ¼ teaspoons baking soda
1 teaspoon sea salt
3 cups mashed ripe bananas (from 6 large bananas)
3 tablespoons vegetable oil
2 tablespoons honey
5 large eggs
2 teaspoons pure vanilla extract
3 cups fresh blueberries
1 tablespoon sugar or honey, for sprinkling or drizzling over top (optional)
Directions
Preheat the oven to 350°F. Line one jumbo-sized muffin tin with 12 paper muffin liners.

In a medium mixing bowl, add 3 cups of mashed bananas, oil, honey, eggs, and vanilla extract and whisk until combined. Using a spatula, stir in the dry ingredients until evenly incorporated and smooth.

Fold in 2 cups of the blueberries and spoon the batter into the prepared muffin tins, filling cups almost to the top. Top each muffin with a few more of the remaining blueberries. Sprinkle the tops of the muffins with a little sugar (if using) or drizzle the tops with honey just before baking.

Bake for 30 minutes, or until the muffins are deep golden brown on the top and spring back lightly when pressed gently in the center. Immediately turn the muffins onto a wire rack to cool.

Notes: Muffins taste best enjoyed day of, but they will keep well in an airtight container for up to 2 days, or in the refrigerator for up to 4 days. To ensure the muffins are gluten-free, choose a gluten-free oat flour.
Nutrition
Calories: 360kcal | Carbohydrates: 38g | Protein: 14g | Fat: 18g | Saturated Fat: 2.5g | Cholesterol: 80mg | Sodium: 460mg | Fiber: 7g