This better-for-you pasta is made with caramelized cauliflower, prunes, flavorful herbs, and garlic for a perfect sweet and savory mix.
---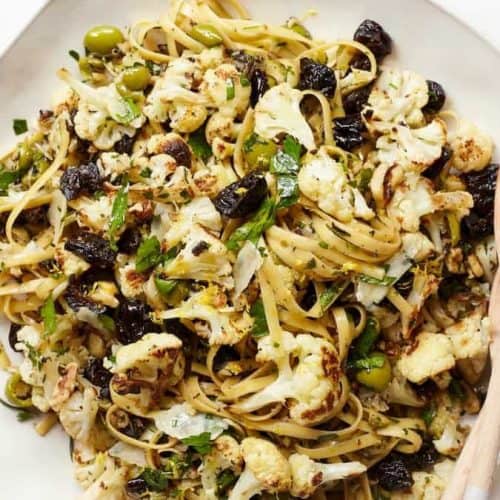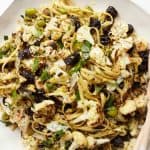 Ingredients
2 heads cauliflower, chopped into small florets
1/3 cup extra-virgin olive oil
½ teaspoon kosher salt
½ teaspoon black pepper
8 large cloves garlic, chopped
3 shallots, thinly sliced
2 sprigs fresh rosemary, chopped
2 leaves fresh sage, chopped
1 cup whole pitted prunes, chopped
½ cup green olives, chopped
¼ cup walnuts, chopped (optional)
½ teaspoon chili pepper flakes
8 ounces fettuccine pasta
1 bunch fresh parsley, stemmed and chopped
Zest from 1 lemon + 1 tablespoon lemon juice
2 ounces grated Parmesan or Pecorino cheese
Directions
Preheat the oven to 425°F. Toss the cauliflower florets with 1 tablespoon of the olive oil over a baking sheet and season with a ¼ teaspoon each of salt and pepper. Spread out in a single layer and roast in the oven for 20 minutes until the cauliflower is caramelized and golden brown on the edges. Remove from heat and set aside.

Meanwhile, heat the remaining olive oil in a large saucepan over medium heat. Once the oil is shimmering in the pan, add the garlic, shallots, rosemary, and sage. Cook, stirring occasionally, until fragrant but not browned, about 2 minutes. Reduce the heat to low and stir in the chopped prunes, olives, walnuts, and chili pepper flakes and continue cooking on low.

Bring a pot of salted water to a boil. Drop in the pasta, and cook until al dente, about 8 to 10 minutes. Set aside.

Reserve a ½ cup of the pasta water and add it to the saucepan with the prune mixture, stirring, to create a pan sauce. Season with remaining salt and black pepper and increase the heat to medium high. Add the caramelized cauliflower and drained pasta to the pan, along with the parsley, lemon zest, and lemon juice and toss to evenly distribute. The fettuccine should be evenly coated with the cauliflower florets, prunes, herbs, and savory bits.

Transfer to a large serving platter or to dinner plates, top with grated cheese, and serve warm.
Nutrition
Calories: 470kcal | Carbohydrates: 62g | Protein: 15g | Fat: 21g | Saturated Fat: 4g | Cholesterol: 10mg | Sodium: 580mg | Fiber: 9g