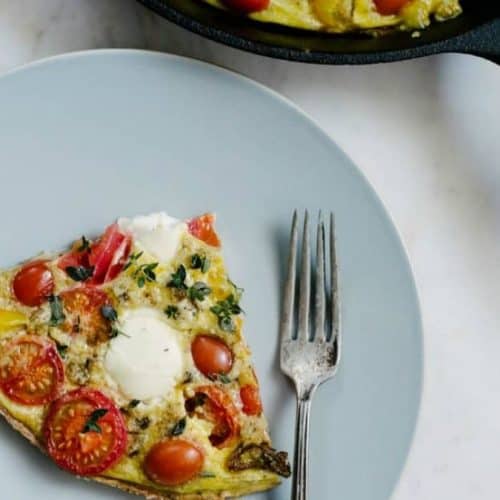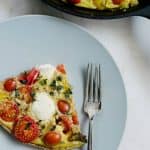 Ingredients
2 tablespoons extra-virgin olive oil
3 cloves garlic, chopped
2 large shallots, diced
1 tablespoon fresh oregano leaves
1 tablespoon fresh thyme
10 large eggs
½ cup low-fat milk (or milk alternative)
1 teaspoon kosher salt
1 teaspoon ground black pepper
3 cups cherry tomatoes, some halved and some whole
1 cup fresh ricotta cheese
Directions
Preheat the oven to 350ºF.

In a large sauté pan or cast iron skillet, heat the oil over medium-low heat. Cook the garlic, shallots, and half of the oregano and thyme until fragrant in the pan, about 1 to 2 minutes. Remove from heat and set aside.

Combine the eggs, milk, salt, and black pepper in a blender and blend on medium speed until smooth. Return to the skillet and pour in the egg mixture. Scatter over the tomatoes and spoon over the ricotta cheese in large dollops evenly across the frittata mixture.

Bake for 30 to 35 minutes until firm and the tomatoes are lightly roasted, being careful to not overcook. Let cool 15 minutes before serving. Top with remaining fresh herbs, slice, and enjoy warm or cold. 

Note: The frittata will keep well in an airtight container in the refrigerator for up to 5 days. 
Nutrition
Calories: 180kcal | Carbohydrates: 5g | Protein: 12g | Fat: 12g | Saturated Fat: 4g | Cholesterol: 245mg | Sodium: 410mg | Fiber: 1g