This chocolate blueberry smoothie only has 5 ingredients and is a great option to add to your breakfast or snack rotation.
---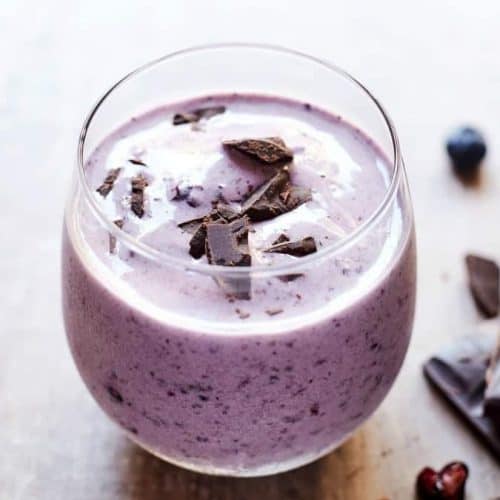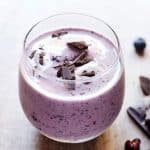 Ingredients
1 cup low-fat milk (or milk alternative of your choice)
¾ cup frozen blueberries
1 frozen banana
½ cup ice
1 ounce dark chocolate, chopped
Directions
Combine the milk, blueberries, and banana in a blender and process until smooth. Add ice cubes, as needed, and blend until desired consistency is reached.

Pour into two glasses. Add half of the chocolate shavings to each smoothie, folding some into the smoothie and using the remainder to garnish the top. Enjoy immediately. 
Nutrition
Calories: 200kcal | Carbohydrates: 35g | Protein: 5g | Fat: 7g | Saturated Fat: 4g | Cholesterol: 5mg | Sodium: 55mg | Fiber: 4g