Elevate your typical Greek yogurt parfait by adding a homemade chocolate smear to the inside of the bowl. You'll only need cocoa powder, almond butter, honey, and water to make the mixture, and it will add a ton of flavor and fun.
---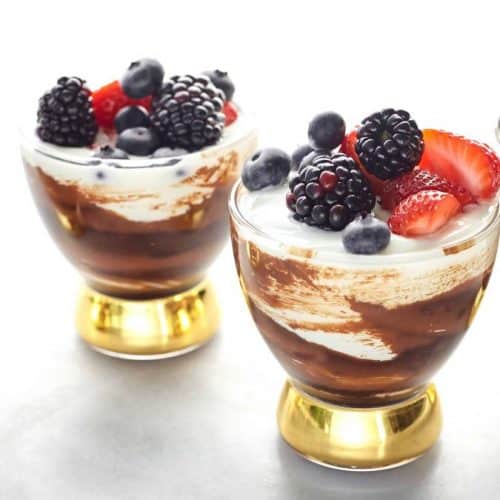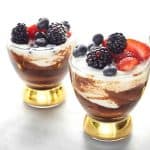 Ingredients
2 tablespoons unsweetened cocoa powder
2 tablespoons smooth almond butter
2 teaspoons honey
4 tablespoons warm water
2 cups plain nonfat Greek yogurt
½ cup large strawberries, hulled, rinsed, and sliced
½ cup blackberries, rinsed
¼ cup blueberries, rinsed
Directions
In a small bowl, mix together the cocoa powder, almond butter, honey, and water. If needed, add a very small amount of additional water to get the mixture to the consistency of a thick nut butter.

Smear equal amounts of the mixture around the perimeter of four small clear bowls. Add ½ cup of yogurt to each bowl, and top with berries. Enjoy immediately or cover and refrigerate for up to 6 hours.
Nutrition
Calories: 150kcal | Carbohydrates: 15g | Protein: 15g | Fat: 5g | Saturated Fat: 0.5g | Cholesterol: 0mg | Sodium: 50mg | Fiber: 3g