Enjoy this one-pan fish en papillote, which simply means "in parchment" in French. It's super simple to make and packed with flavor from the veggie and herbs.
---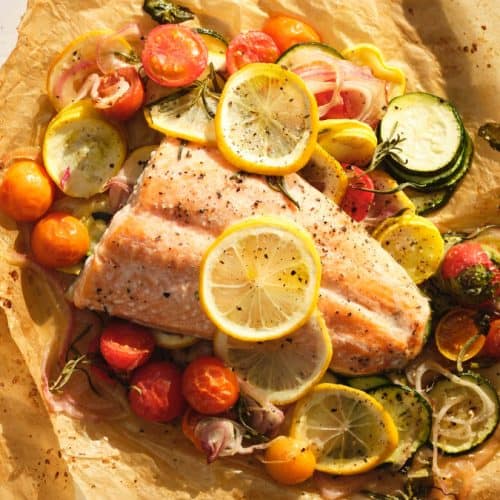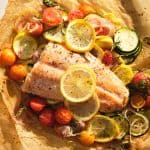 Ingredients
12 ounce filet of fish, such as trout, haddock, salmon, or cod
1/2 teaspoon kosher salt
1/2 teaspoon freshly ground black pepper
1 large shallot, thinly sliced
1 medium zucchini, sliced
1/2 cup cherry tomatoes, halved
1/2 lemon, thinly sliced
1 tablespoon extra-virgin olive oil
3 tablespoons dry white wine
1/2 cup fresh herbs, such as torn basil and rosemary
Directions
Preheat the oven to 400°F. 

Line a large piece of parchment paper onto a baking sheet; large enough to fold over your piece of fish with at least 3-4 inches around the edges. Season fillet with salt and pepper and top with vegetables and lemon slices. Drizzle with olive oil, pour over white wine, and top with herbs.

Fold over other half of parchment, then fold and pinch along edges to seal. You'll end up with a semi-circle of parchment with crimped edges not unlike a big pot sticker. Bake for 15 to 20 minutes, or until fish is cooked through (internal temperature should reach 145 degrees).

Carefully cut open packet, avoiding escaping steam, and serve immediately.
Nutrition
Calories: 330kcal | Carbohydrates: 8g | Protein: 37g | Fat: 13g | Saturated Fat: 2g | Cholesterol: 100mg | Sodium: 620mg | Fiber: 2g