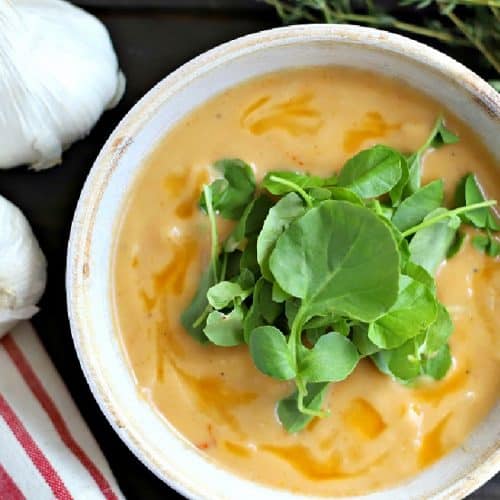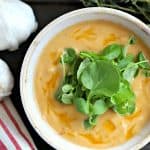 Prep Time 5 minutes
Cook Time 25 minutes
Total Time 30 minutes
Ingredients
roasted garlic
30 cloves garlic, medium to large
1/2 cup extra virgin olive oil
10 springs thyme
1 pinch Kosher salt
1 pinch freshly ground black pepper
soup base
1/4 cup extra virgin olive oil
5 cloves garlic, roughly chopped
1 medium sweet onion, peeled and roughly chopped
2 1/2 teaspoons Spanish smoked sweet paprika
1 1/2 teaspoons Kosher salt
1/2 teaspoon freshly ground black pepper
1 pound frozen cauliflower florets
4 cups Pacific Foods Organic Bone Broth
10 springs fresh thyme
topping
1 handful watercress leaves
1 pinch Spanish smoked sweet paprika
1 drizzle roasted garlic oil (from roasting the garlic)
Directions
Roast the garlic: Preheat oven to 350F. Add 30 garlic cloves to a small oven-safe dish. Top with 1/2 cup extra virgin olive oil, 10 sprigs of fresh thyme, and a pinch of kosher salt and black pepper. Cover with tin foil and roast, undisturbed, for 40 minutes.

Once garlic is done roasting, carefully remove from oven and cool for 5 to 10 minutes. Use a slotted spoon to remove garlic and set aside to add to soup. Allow oil to cool and store in a covered glass jar. Use up in salad dressing, marinades or for cooking within 2 to 3 days.

Make the soup: While garlic is roasting, heat a large soup pot over medium heat. Once hot, add 1/4 cup extra virgin olive oil. Add roughly chopped sweet onion and remaining garlic cloves along with salt, paprika, and black pepper. Sauté for 6 to 8 minutes, stirring frequently.

Add in cauliflower florets and stir to coat with spices. Add bone broth and 10 sprigs of fresh thyme. Bring to a boil. Once boiling, cover, immediately reduce heat to a simmer and for 15 minutes.

Remove from heat and add roasted garlic cloves to the pot. Use an immersion blender to carefully purée the soup until it is completely smooth.

Serve topped with a drizzle of the roasted garlic oil, a sprinkle of smoked paprika and some fresh watercress leaves and enjoy!

Recipe and image courtesy of Pacific Foods.
Nutrition
Calories: 330kcal | Carbohydrates: 14g | Protein: 9g | Fat: 28g | Saturated Fat: 4g | Cholesterol: 0mg | Sodium: 830mg | Fiber: 3g