This tasty salmon power bowl offers staying power with a combination of whole grain carbs from barley, protein from the salmon, and healthy fats from the walnuts.
---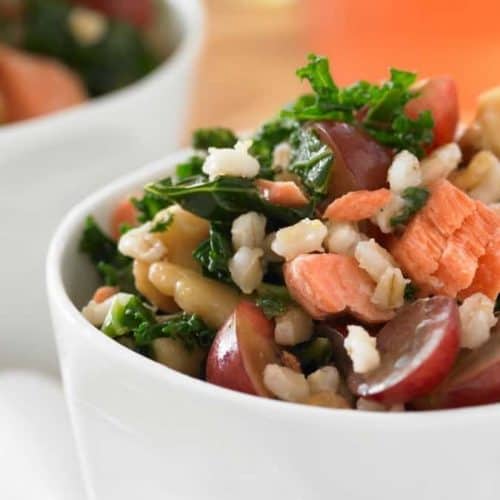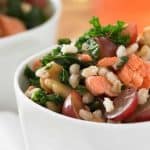 Ingredients
3/4 cup pearled barley
3 cup firmly packed kale leaves, torn and sliced into ribbons
1 cup halved, red or black seedless California grapes
8 ounces cold, cooked salmon, skin and bones removed
1/2 cup walnuts, lightly toasted, coarsely chopped
Dressing
1/4 cup fresh squeezed lemon juice
1 clove garlic, mashed
1/2 teaspoon salt
1/2 teaspoon freshly ground pepper
Pinch cayenne pepper
1/2 cup extra virgin olive oil
Directions
Cook the barley according to package directions, or in plenty of lightly salted boiling water for about 35 to 45 minutes until it is plump and tender, and still slightly chewy. Drain and cool.

Tenderize the kale by blanching it in boiling water for 2-3 seconds or cooking in the microwave for 1 minute. Rinse the pieces in cold water to stop the cooking and squeeze dry. Fluff and uncrimp the dry kale pieces with your fingers. 

In a medium bowl, mix together the barley, kale, grapes, salmon and walnuts. 

To prepare the dressing: In a small bowl, whisk together the lemon juice, garlic, salt, pepper and cayenne. Gradually mix in the olive oil. Pour onto the salad and fold gently to combine. Serve immediately or refrigerate.

Image and recipe adapted from Grapes from California.
Nutrition
Calories: 413kcal | Carbohydrates: 30g | Protein: 15g | Fat: 28g | Cholesterol: 22mg | Sodium: 232mg | Potassium: 500mg | Fiber: 4g