This grilled chicken sandwich with coleslaw is easy to make with items you usually have on hand in your kitchen. The Greek yogurt adds a healthier twist to this homemade slaw.
---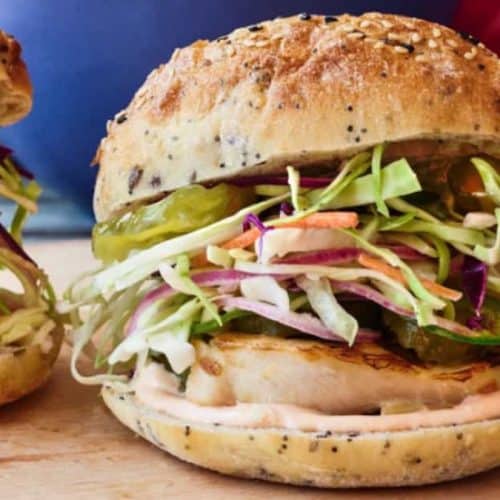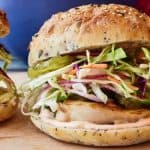 Ingredients
Spicy Mayo and Slaw
1/4 cup First Street Premium Real Mayonnaise*
1/4 cup low-fat plain Greek yogurt
4 teaspoons cayenne pepper style hot sauce
2 teaspoons freshly squeezed lemon juice
1/4 teaspoon First Street Garlic Powder*
5 cups Sun Harvest Coleslaw*
1/4 small red onion, thinly sliced
GRILLED CHICKEN AND ASSEMBLY
2, 8 ounce skinless, boneless chicken breasts
1/8 teaspoon kosher salt
1/8 teaspoon freshly ground black pepper
1 tablespoon Sun Harvest Avocado Oil*, for grilling
4 seeded buns or ciabatta rolls
1/4 cup First Street Sliced Hamburger Dill Pickle Chips*
1 jalepeño, thinly sliced
* Available at Smart & Final grocery & warehouse stores
Directions
Make the Slaw: In a small bowl, whisk the mayo, yogurt, hot sauce, lemon juice, and garlic powder until combined. Add the coleslaw and red onions to a large bowl and pour over half of the spicy mayo mixture, reserving the other half of the mayo for serving. Toss the slaw until coated and place in the fridge until ready to serve.

Grill the Chicken: Prepare a grill. Place the chicken breasts in a plastic bag and lightly pound out until ¾-inch thick in size. Slice each breast in half, pat to dry, brush with oil, and season with salt and black pepper. Grill the chicken over moderate heat, turning once, until just cooked through, about 14 minutes, or until internal temperature reaches 165°F. Let rest for 5 minutes. Meanwhile, halve the sandwich rolls, add to the grill, and heat for 2 to 3 minutes.

Assemble the Sandwiches: Spread the reserved spicy mayo evenly over the cut-sides of each roll. Layer the bottom half of each roll with a piece of grilled chicken and top with slaw. Place a few pickle chips and jalepeño slices over the slaw and top each with the remaining half of roll. Enjoy!
Nutrition
Calories: 570kcal | Carbohydrates: 45g | Protein: 36g | Fat: 27g | Saturated Fat: 3.5g | Cholesterol: 70mg | Fiber: 4g