A perfect addition to your BBQ spread, these grilled chicken and vegetable kabobs are full of flavor and add a pop of color to any meal. The honey lime marinade is refreshing and makes these kabobs hard to pass up.
---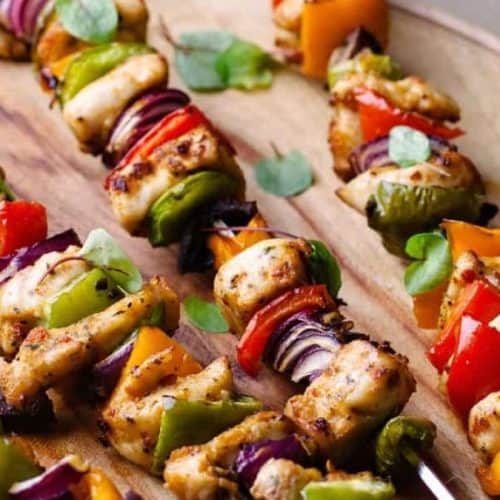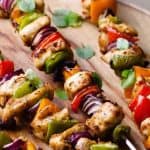 Ingredients
Marinade
2 tablespoons extra-virgin olive oil
2 tablespoons freshly squeezed lime juice
1 tablespoon red wine vinegar
1 tablespoon low-sodium soy sauce
2 teaspoons honey
1 teaspoon Dijon mustard
1 tablespoon sweet or smoked paprika
1 teaspoon freshly ground black pepper
Kebabs
12 ounces skinless, boneless chicken breasts, cut into 1-inch pieces
1 medium zucchini, cut into 1/2-inch slices
2 colorful bell peppers (red, green, yellow or orange), cut into 1-inch pieces
2 peaches, cut into 1-inch wedges (optional)
1 red onion, cut into 1-inch pieces
1/3 cup micro herbs or fresh cilantro leaves, coarsely chopped
Directions
In a medium bowl, mix together the ingredients for the marinade and set aside. Place the chicken and vegetables into a bowl and marinade for at least 15 minutes.

Light an outdoor grill or heat a grill pan. Thread the chicken, zucchini, bell peppers, peaches and red onion onto 10-inch skewers. Brush the kebabs with some of the remaining marinade. Grill over medium-high heat, turning occasionally until the chicken is cooked through and the vegetables are brightly colored, about 4 to 5 minutes per side. Garnish the kebabs with fresh micro herbs or cilantro, if desired, and serve with your favorite side. Enjoy warm or chilled.
Nutrition
Serving: 0g | Calories: 240kcal | Carbohydrates: 19g | Protein: 22g | Fat: 9g | Saturated Fat: 1g | Trans Fat: 0g | Cholesterol: 50mg | Sodium: 200mg | Fiber: 3g