This hummingbird loaf cake has a mix of nutrient-packed fruit, nuts, grains, and spices, and is a satisfying sweet treat.
Hummingbird loaf cakes originated in Jamaica and are named after their national bird. As with any classic Hummingbird cake, this recipe includes mashed banana, crushed pineapple, and pecans. To lighten it up, instead of a full frosted cake, this loaf is topped with an oat-pecan crumble and drizzled with an orange-zested glaze.
---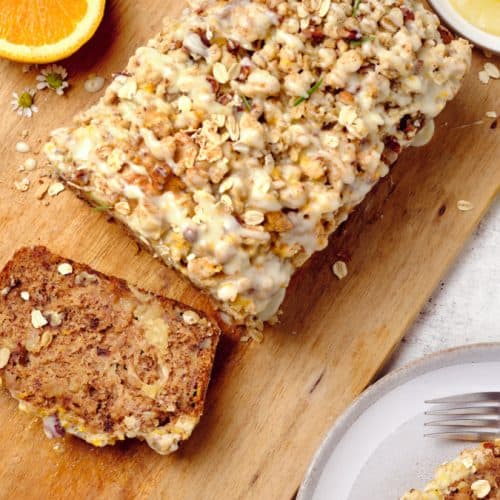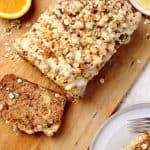 Ingredients
cake
1 1/4 cups ripe mashed bananas, (from about 3 medium bananas)
1 cup canned sliced pineapple in juice, drained and finely chopped
2/3 cup granulated white sugar
1/3 cup avocado oil
2 large eggs
2 teaspoons vanilla extract
3/4 cup whole-wheat flour
1 cup all-purpose flour
1 teaspoon baking powder
1/2 teaspoon baking soda
1/2 teaspoon sea salt
1/2 teaspoon ground nutmeg
1 teaspoon ground cinnamon
3/4 cup pecans, chopped
pecan crumble and glaze
1/4 cup pecans, chopped
1/4 cup all-purpose flour 
1/4 cup old-fashioned rolled oats
1/4 cup powdered sugar, divided
1/2 teaspoon ground cinnamon
2 tablespoons avocado oil
1 1/2 teaspoons unsweetened almond milk or orange juice 
Zest of ½ large orange 
1/8 teaspoons sea salt
Directions
Preheat the oven to 350°F. Spritz a 9- x 5-inch loaf pan with cooking oil spray and line with parchment paper. (The cooking oil spray will help the parchment paper stick to the pan nicely).

In a large bowl, add the mashed bananas, all but 3 tablespoons of the chopped pineapple, sugar, oil, eggs, and vanilla and whisk until the oil is no longer separated. 

In a medium bowl, sift the flours, baking powder, baking powder, baking soda, salt, cinnamon, and nutmeg. Add to the bowl with the wet ingredients. Mix until all the flour is absorbed being careful to not over-mix. Fold in the chopped pecans and set aside.  

Make the crumble: In a small bowl, combine the chopped pecans, flour, oats, 1 tablespoon of the powdered sugar, cinnamon, and oil and mix until everything comes together. Set aside.  

Make the icing: In a small bowl, whisk the remaining 3 tablespoons of powdered sugar, almond milk or orange juice, orange zest, and salt together until smooth. Set aside.

Pour the cake batter into the parchment lined loaf pan. Scatter the remaining 3 tablespoons of chopped pineapple over the batter, and then evenly sprinkle the crumble on top. Bake for 65 to 70 minutes until the top is firm and the center of the cake is no longer gooey. (Hint: Place a piece of tinfoil over the cake halfway through cooking if the crumble starts to get too dark). Let cool for at least 10 minutes before icing. Slice and serve.

The cake keeps well, covered, at room temperature for up to 1 day or in the fridge for up to 5 days.
Nutrition
Calories: 330kcal | Carbohydrates: 40g | Protein: 5g | Fat: 18g | Saturated Fat: 2g | Cholesterol: 30mg | Sodium: 160mg | Fiber: 4g