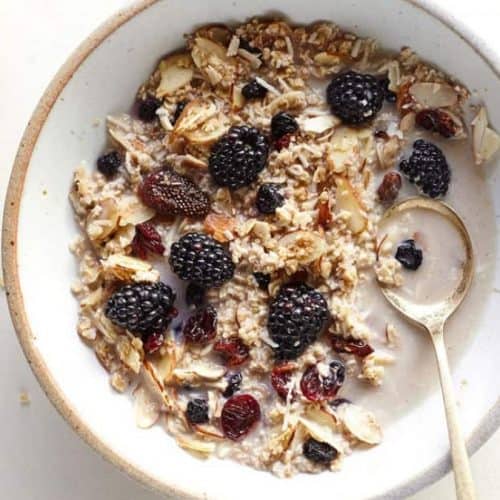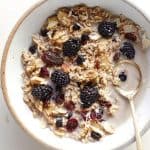 Ingredients
2 cups instant oats
½ cup sliced almonds
¼ cup shredded unsweetened coconut
3 tablespoons maple syrup
2 tablespoons vegetable oil
¼ teaspoon kosher salt
1 teaspoon cinnamon
¾ cup dried berry medley (such as blueberries, strawberries, cherries, and blackberries)
Directions
Preheat oven to 300°F.

In a large bowl, combine the oats, almonds, coconut, maple syrup, oil, and salt. Spread mixture out on a sheet pan sprayed with olive oil spray.

Bake, tossing once, until golden, about 15 to 20 minutes. Granola will get crispy once it cools.

Add the dried fruit and toss to combine. Let cool and enjoy on its own or with yogurt, milk, or a milk alternative. If you like, top with a few fresh berries before eating.
Nutrition
Calories: 210kcal | Carbohydrates: 27g | Protein: 4g | Fat: 10g | Saturated Fat: 4.5g | Cholesterol: 0mg | Sodium: 75mg | Fiber: 3g