These mini pecan pie tarts are everyone's favorite holiday pie in bite size form, with a healthier, plant-based twist!
The simple homemade crust is made of almond flour, coconut oil, and Medjool dates. The gooey filling is made from almond butter, almond milk, and plump Medjool dates. Each mini pie is topped with a pecan half and an optional dollop of coconut ice cream. These mini pecan pie tarts are gluten-free and vegan, making them an easy holiday addition for anyone with certain allergies or food intolerances.
---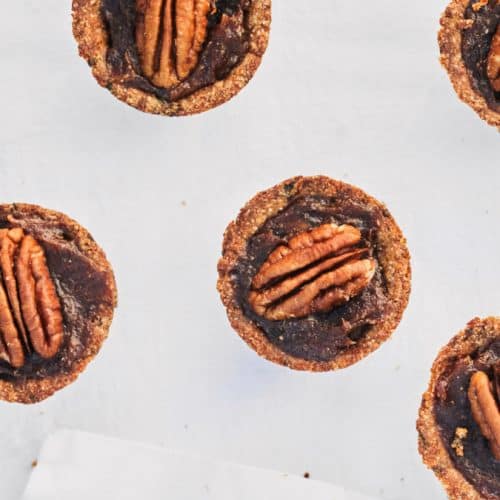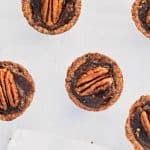 These bite-sized mini pecan pie tarts are perfectly satisfying plant-based desserts.
Prep Time 13 minutes
Cook Time 17 minutes
Total Time 30 minutes
Ingredients
CRUST
1 cup almond flour
2 tablespoons virgin coconut oil
4 Medjool dates, pitted
FILLING
8 Medjool dates, pitted
1 1/2 tablespoons Sun Harvest almond butter
1/3 cup First Street unsweetened almond milk
3/4 teaspoon pure vanilla extract 
3/4 teaspoon ground cinnamon
TOPPING
12 First Street pecan halves
Coconut ice cream (optional)
Sun Harvest and First Street are private label brands available at Smart & Final grocery & warehouse stores.
Directions
Preheat oven to 400°F. Spray a mini muffin tin with cooking spray for easy clean up.

Make the crust: Add almond flour, coconut oil, and 4 pitted Medjool dates to a food processor and process until a wet dough forms (about 45 seconds). 

Divide the dough into 12 equal balls. Press each ball of dough into the bottom of a muffin tin to make 12 crusts. Bake for about 15 minutes, until lightly browned. Watch so they don't burn. Remove and set aside. Keep the oven on as you make the filling.

Make the filling: Add remaining dates, almond butter, almond milk, vanilla extract, and cinnamon to the food processor and process until a thick paste forms (about 1 minute). 

Add a spoonful of filling to each crust. Top each mini pie with a pecan half. Bake for 2 minutes to set. Let cool for 15 minutes, then enjoy immediately with a dollop of your favorite frozen topping, if desired. 

Pies will last well in an airtight container in the fridge for up to 5 days or frozen up to 1 month.
Nutrition
Calories: 170kcal | Carbohydrates: 19g | Protein: 3g | Fat: 9g | Saturated Fat: 2.5g | Cholesterol: 0mg | Sodium: 10mg | Fiber: 3g