If you're short on time and want a quick, healthy, and tasty snack, these mini hummus tacos fit the bill! Perfectly balanced with whole grain carbs from the pita bread, healthy fats from the avocado, and protein from the hummus.
---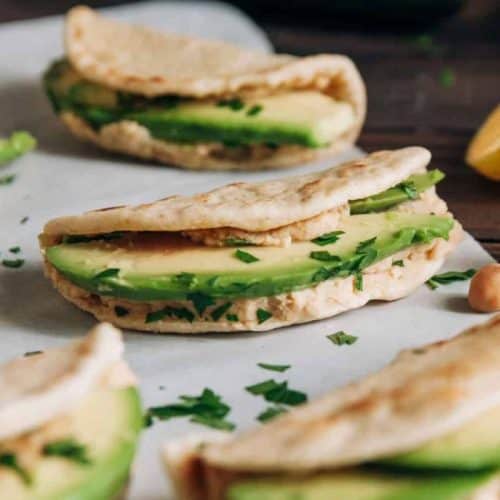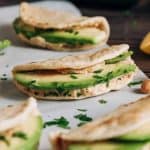 Ingredients
2 (4-inch) whole-wheat flour or corn "street taco" tortillas
¼ cup your favorite hummus
¼ medium avocado, sliced
1/8 teaspoon flaky sea salt
¼ teaspoon freshly ground black pepper
2 tablespoons cilantro, chopped (or parsley)
2 small lime wedges, for serving
Directions
To serve, warm the tortillas in a skillet until heated through or char slightly over an open flame and transfer to a plate. Spread 2 tablespoons of the hummus over each tortilla and top with two or three slices of avocado onto each. Season the avocado with salt and black pepper. Garnish with cilantro, serve with lime wedges, and enjoy immediately!
Nutrition
Calories: 230kcal | Carbohydrates: 26g | Protein: 8g | Fat: 13g | Saturated Fat: 1.5g | Cholesterol: 0mg | Sodium: 730mg | Fiber: 8g