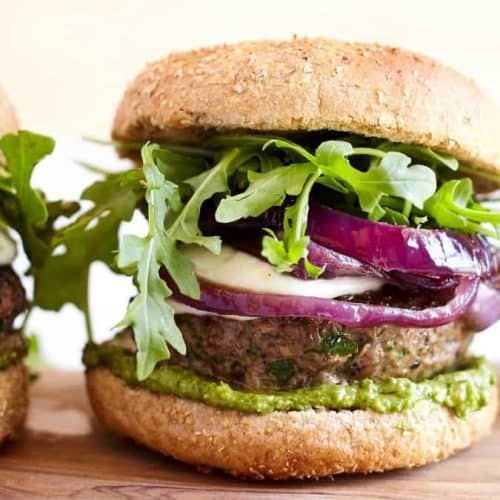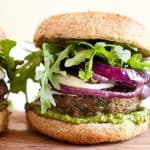 Ingredients
Basil Avocado Pesto
1/2 medium avocado
3 tablespoons walnuts
2 garlic cloves
4 cups fresh basil
4 tablespoons Parmesan cheese, grated
4 tablespoons water
1/2 medium lemon, juiced
2 tablespoons olive oil
Mushroom Mixture
1 3/4 lb white or crimini mushrooms, diced small
1/4 cup olive oil
1/8 teaspoon kosher salt
1/4 teaspoon ground black pepper
Burger
16 ounces beef or lamb, ground
8 ounces mushroom mixture
1/8 teaspoon kosher salt
1/2 teaspoon ground black pepper
1/2 teaspoon Worcestershire sauce
1/2 cup fresh parsley, chopped
1 large egg
1 tablespoon olive oil (for the pan)
5 ounces fresh sliced mozzarella
To Assemble
5 whole wheat buns
5 tablespoons basil avocado pesto
2/3 cup caramelized onions
1 1/4 cups fresh baby arugula
Directions
Make the basil avocado pesto: To a small blender, add all the ingredients for the pesto; process until smooth. Remove from blender and place covered in the refrigerator until ready to use. 

Preheat the oven to 400°F. 

In a medium bowl, mix mushrooms, olive oil, salt, and pepper. Place mushrooms in a single layer on parchment lined baking trays, and bake in the oven for 20 minutes. Stir every 5 minutes.

Allow mushrooms to cool, then in a food processor fitted with a steel blade, process mushrooms until they are chopped fine with some texture remaining.

In a large bowl, mix the beef or lamb, 8 ounces of the mushroom mixture, salt, pepper, Worcestershire sauce, parsley, and egg together. Form 5, 5-ounce patties and place on a parchment lined sheet pan, and place in the refrigerator to cool for 15 minutes.

Preheat a large skillet or griddle to medium-high heat. Add 1 tablespoon of olive oil. Once the oil is hot and coats the entire pan, cook the patties for approximately 4 minutes on each side or until they are an internal temperature of 165°F. Turn off the heat, place one ounce of mozzarella on each burger and allow them to rest for 5 minutes.

Serve each patty on a whole wheat bun and top with 1 tablespoon basil avocado pesto, 2 tablespoons caramelized onions, and 1/4 cup fresh arugula.

Recipe adapted from a workshop at the Goldring School of Culinary Medicine at Tulane University.
Nutrition
Calories: 500kcal | Carbohydrates: 33g | Protein: 35g | Fat: 28g | Saturated Fat: 7g | Cholesterol: 105mg | Sodium: 510mg | Fiber: 7g