These veggie and cheese stuffed mushrooms are easy to make and have all the umami of restaurant-style stuffed mushrooms!
The stuffed mushrooms make a great starter or party snack, but they can also be paired with a salad for a filling vegetarian meal. A mix of olives and onions with a bit of hummus make up the flavorful stuffing. It's used to fill mushrooms that are baked until tender and then finished with a sprinkle of feta cheese.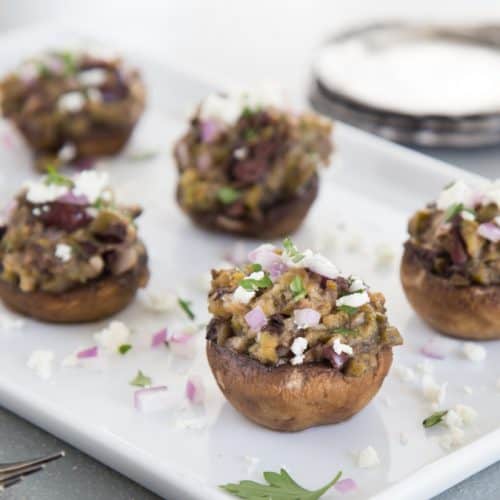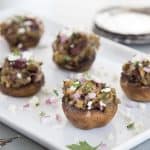 Prep Time 15 minutes
Cook Time 30 minutes
Total Time 45 minutes
Ingredients
20 white button mushrooms (about 16 ounces)
4 tablespoons extra virgin olive oil
2 cloves garlic, minced
1 cup pitted green olives, diced
1/2 cup pitted Kalamata olives, diced
1/4 cup diced red onion
3 tablespoons hummus
1/4 cup crumbled feta cheese
Chopped parsley for garnish
Directions
Preheat oven to 400°F. 

Remove the stems from the mushrooms. Finely chop the stems and set aside. Use 2 tablespoons of the olive oil to rub each mushroom cap. Place the mushrooms top side down in a 9 x 13-inch baking dish. Bake for 10 minutes.

Heat the remaining 2 tablespoons of olive oil and a large skillet over medium heat. Add the garlic and the chopped mushroom stems. Cook until the stems soften, about 3 minutes. Stir in the green and Kalamata olives. Cook for 1 more minute. Stir in ½ of the red onion and cook for 1 more minute. Remove from the heat and stir in the hummus.

Use a spoon to fill each mushroom cap with an equal amount of stuffing. Return to the oven and bake for 10 more minutes, until the mushrooms are tender.

Sprinkle with the remaining onion, feta cheese, and parsley before serving warm.

Recipe and image courtesy of The Mushroom Council.
Nutrition
Calories: 120kcal | Carbohydrates: 5g | Protein: 3g | Fat: 12g | Saturated Fat: 2g | Sodium: 510mg | Fiber: 1g