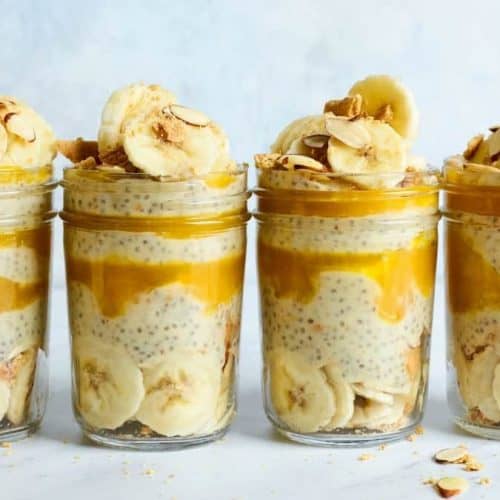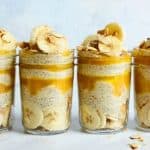 Ingredients
Chia Pudding
3 cups Tropicana Pure Premium orange juice
1 ¼ cup plain almond milk yogurt
¼ cup whole almonds
2 Medjool dates, pitted
1 teaspoon pure vanilla extract or 1 vanilla bean, scraped
¼ teaspoon sea salt
½ cup chia seeds
Zest of ½ orange
Toppings
1 banana, sliced
2 Graham cracker sheets, crumbled
2 tablespoons sliced almonds
Directions
In a blender, combine 2 cups of the orange juice, yogurt, almonds, dates, vanilla extract, and salt and blend on high until smooth and creamy. Transfer to an airtight container or bowl and stir in the chia seeds and orange zest until well distributed. Cover and set in the refrigerator for at least 2 hours or overnight to let the chia seeds bloom.

In a small saucepot over medium-high heat, add the remaining 1 cup orange juice and simmer until reduced by half. Transfer to small pitcher or bowl and set in the refrigerator to chill.

To serve, give the pudding a good mix, breaking apart any clumps. Add sliced banana, graham cracker crumbs, and sliced almonds to the bottom of single-serve 8 oz. jars or individual bowls. Spoon the chia pudding to cover and begin by alternating layers of the pudding with the orange juice reduction. Top with sliced banana, crumbled graham cracker, and sliced almonds. Serve immediately.

Note: For a snack size recipe or when serving to smaller children, use single-serve 4 oz. jars; recipe will yield 12 servings.
Nutrition
Calories: 320kcal | Carbohydrates: 42g | Protein: 8g | Fat: 14g | Saturated Fat: 1.5g | Cholesterol: 0mg | Sodium: 180mg | Fiber: 9g