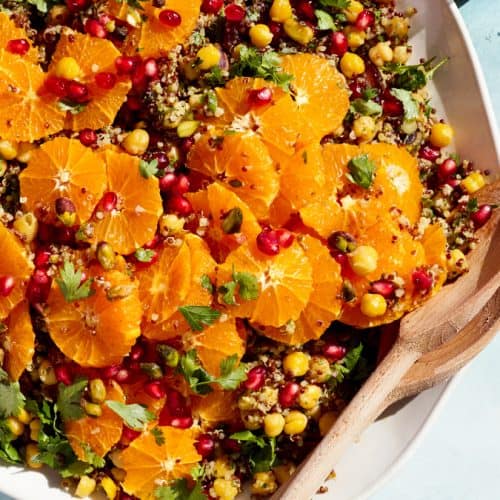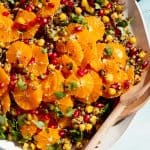 Ingredients
Dressing
1/3 cup freshly squeezed juice, from 3 mandarin oranges
1/4 cup red wine vinegar
1 tablespoon freshly grated ginger
1 large garlic clove, smashed
1 1/2 teaspoons Dijon mustard
1 1/2 tablespoons honey
1 1/2 teaspoons ground oregano
1/3 teaspoon ground coriander
1/3 teaspoon ground turmeric
1/2 teaspoon sea salt
1/2 teaspoon ground black pepper
1/3 cup Sun Harvest extra-virgin olive oil
Salad
2 cups dry Sun Harvest organic whole grain red and white quinoa
1, 15-ounce can Sun Harvest organic garbanzo beans, drained and rinsed
2 cups kale, chopped
1/2 cup green onions, chopped
3 medjool dates, pitted and chopped
1/2 cup cilantro, chopped
1 cup pomegranate arils
1/2 cup pistachios, chopped
8 mandarin oranges, peeled and sliced
Sun Harvest is an earth-friendly, organic private label brand available at Smart & Final grocery & warehouse stores.
Directions
Make the dressing: Combine all ingredients for dressing in a small bowl and whisk to combine. Set aside and discard the smashed garlic clove before serving.

Cook the quinoa: Place the quinoa in a large saucepan with 5 cups water over medium high heat. Bring to a boil and drop down to a simmer for 15 to 20 minutes and cook until tender. There will be some water leftover. Drain, rinse with cold water, and drain again. Transfer to a large mixing bowl.

Make the salad: To the mixing bowl, add the quinoa, beans, kale, green onions, dates, cilantro, and half of the pomegranate arils and pistachios. Pour over the dressing and toss to coat. Transfer to a large serving plate and top with the sliced oranges. Top with the remaining pomegranate arils and pistachios and enjoy immediately. 

Note: Salad dressing will keep well covered in an airtight container in the refrigerator for up to 4 days.
Nutrition
Calories: 450kcal | Carbohydrates: 66g | Protein: 12g | Fat: 18g | Saturated Fat: 2g | Cholesterol: 0mg | Sodium: 450mg | Fiber: 9g