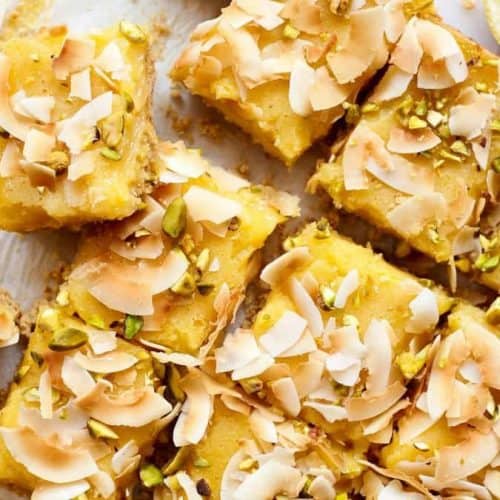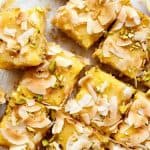 Ingredients
Crust
1/4 cup shelled pistachios
1/4 cup unsweetened coconut flakes
1/2 cup turbinado sugar
3/4 cup spelt or whole-wheat flour
1 1/2 cups all-purpose flour
1/2 teaspoon kosher salt
1/2 cup extra-virgin olive oil
1/3 cup unsalted butter, chopped into cubes
Filling
6 large eggs
1 1/2 cups freshly squeezed lemon juice
3 cups turbinado sugar
3/4 cup all-purpose flour
2 tablespoons lemon zest (from about 5 lemons)
Topping
1/4 cup shelled pistachios, chopped
1/2 cup unsweetened coconut flakes, toasted
Directions
Preheat the oven to 350°F. Coat a 9 x 13 x 12 baking dish with cooking spray and line with parchment paper allowing ends to overhang.

Make the crust: In a food processor, combine the pistachios and coconut flakes and process until a finely ground flour forms, about 20 seconds. Add the sugar, flours, and salt and pulse to combine. Add the olive oil and butter and pulse until the mixture just comes together to form a wet dough.

Press the dough firmly into the prepared baking dish to form the crust. Bake the crust for 15 minutes, until lightly browned. Remove from oven and let cool while making the filling, keeping the oven on.

In a large mixing bowl, whisk the eggs lightly. To the eggs, add the lemon juice, sugar, flour, and lemon zest. Pour the mixture over the crust and bake for 30 minutes, until the filling is set. Remove from oven and immediately top with chopped pistachios and coconut flakes; pressing gently into place. Let cool for 2 to 3 hours. Store the squares in an airtight container in the refrigerator for up to 1 week. Best served chilled.
Nutrition
Calories: 260kcal | Carbohydrates: 38g | Protein: 5g | Fat: 14g | Saturated Fat: 5g | Cholesterol: 65mg | Sodium: 80mg | Fiber: 2g