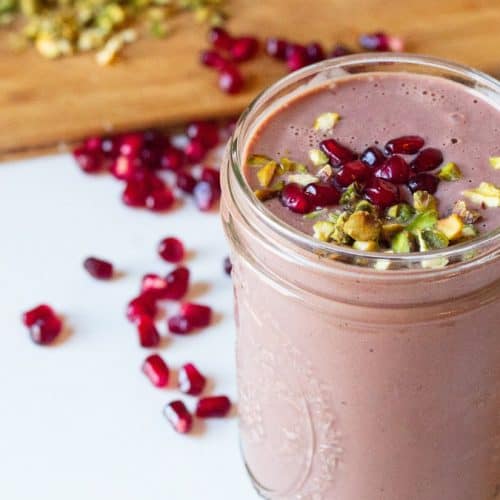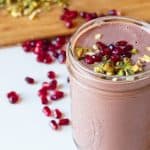 Ingredients
1 cup frozen cauliflower florets or frozen diced zucchini
1 tablespoon cacao or cocoa powder
8 ounces POM Wonderful 100% Pomegranate Juice
1/2 ripe banana, sliced
1 cup (5 ounces) firm tofu with calcium, diced (or 2/3 cup plain Greek yogurt)
1 tablespoon unsalted pistachios
Directions
In a high powered blender, combine all ingredients and blend on medium power until smooth, about 1 minute. Turn blender up to the highest power and blend until the color of the smoothie changes from a darker shade of pink to a creamy, lighter pink, about 1 minute more.

Pour into two glasses and garnish as you like. Enjoy immediately!

Recipe and image courtesy of POM Wonderful.
Nutrition
Calories: 200kcal | Carbohydrates: 31g | Protein: 9g | Fat: 6g | Saturated Fat: 1g | Cholesterol: 0mg | Sodium: 18mg | Fiber: 4.5g