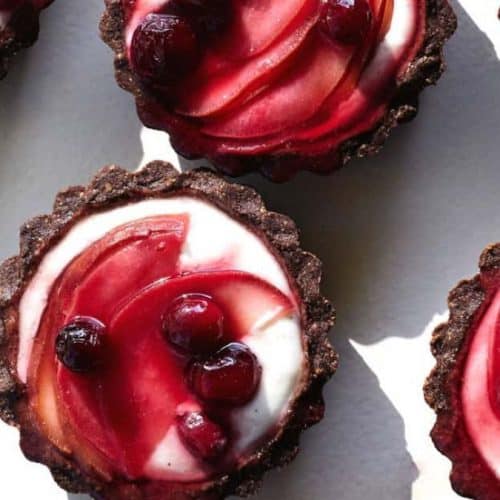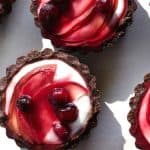 Ingredients
Chocolate Crust
¾ cup almond flour
¾ cup gluten-free oat flour
3 tablespoons unsweetened cocoa powder
2 tablespoons coconut sugar
½ teaspoon salt
1 egg yolk
2 tablespoons unsalted butter, cold and cut into ½ inch dice
3 tablespoons ice water
Ricotta Filling
1 cup whole milk ricotta cheese
½ cup plain nonfat yogurt
1 tablespoon maple syrup
1 vanilla bean, seeds scraped or ½ teaspoon vanilla extract
Fruit Topping
¾ cup fresh or frozen cranberries
2 tablespoons maple syrup
1 tablespoon water
2 ripe red pears, cored and thinly sliced
Directions
Make the crust: Preheat the oven to 350°F. Position a rack in the center of the oven and prepare the 3-inch tart pans on a baking sheet and lightly butter or spray them with oil.

In the bowl of a food processor, pulse to combine the almond and oat flours, cocoa powder, coconut sugar, and salt. Add the egg yolk and pulse until evenly distributed. Add the butter and pulse until moist crumbs form and then pulse in the ice water until the dough starts to hold together. It will appear to be a bit crumbly, but should hold together easily when pressed.

Firmly press 2 tablespoons of the dough into the bottom and against the sides of each tart pan, taking care to push the crust into the indentations in the sides. Bake the tart shells for about 15 minutes just until firm. Let the shells cool completely, and then carefully remove them from the pans. Baked tarts or unbaked dough will keep in the freezer, well wrapped, for up to two months.

Make the filling and fruit topping: Whisk together the ricotta cheese, yogurt, maple syrup, and vanilla and place in the refrigerator to keep chilled. In a medium saucepot, combine the cranberries, maple syrup, and water and cook over medium to high heat just until the cranberries have lightly stewed down but are still intact in shape, about 8 minutes. Set the sliced pears into the pan of cranberries and without stirring, let the pears lightly steam and become barely submerged in the cranberry syrup, about 3 minutes.

To serve, place the tart crusts on plates or a serving dish. Using a spoon, divide the ricotta filling evenly into the tarts. Layer a few sliced pears over the filling, top each with cranberries, and lightly drizzle with the brightly hued cranberry syrup form the pan. Enjoy immediately or serve chilled.
Nutrition
Calories: 210kcal | Carbohydrates: 23g | Protein: 7g | Fat: 11g | Saturated Fat: 4g | Cholesterol: 35mg | Sodium: 150mg | Fiber: 4g