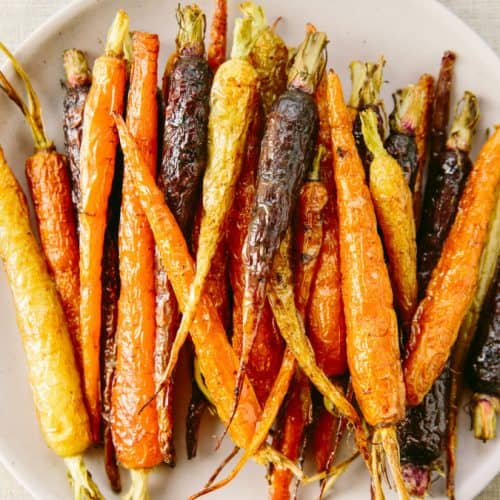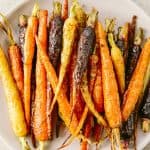 Prep Time 15 minutes
Cook Time 35 minutes
Total Time 50 minutes
Ingredients
2 pounds whole rainbow carrots, stems trimmed
1/4 cup Pacific Foods Organic Chicken Bone Broth
2 tablespoons melted ghee or butter
1/2 teaspoon sea salt
1/2 teaspoon freshly ground black pepper
2 tablespoons maple syrup
Directions
Preheat oven to 450°F. Line a baking tray with parchment paper.

Heat a large skillet over medium-high heat. Add carrots and bone broth and gently saute until carrots turn brightly colored, about 4-5 minutes.

Carefully transfer carrots to lined baking tray. Drizzle with melted butter or ghee and sprinkle with sea salt and pepper.

Roast sprouts for 25-30 minutes, or until carrots are tender. Remove from oven, drizzle with maple syrup, and enjoy!

Recipe courtesy of Pacific Foods.
Nutrition
Calories: 190kcal | Carbohydrates: 28g | Protein: 3g | Fat: 8g | Saturated Fat: 4.5g | Cholesterol: 15mg | Sodium: 470mg | Fiber: 6g