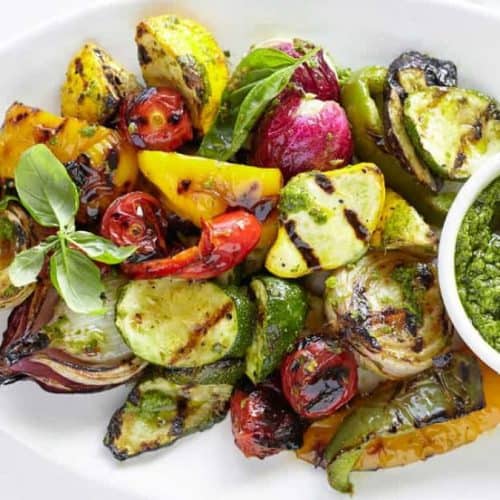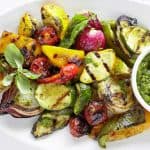 Ingredients
Salsa Verde
1/2 clove garlic, finely diced
2 teaspoons preserved lemon
2 teaspoons sweet onion or shallot, chopped
1 tablespoon capers
1 tablespoon red wine vinegar
½ bunch cilantro, stems removed and chopped
1 ½ cups packed basil leaves, stems removed, plus a few extra leaves as garnish
½ cup extra-virgin olive oil
1 tablespoon freshly squeezed lemon juice
¼ teaspoon sea salt
Grilled Vegetables
1 small red onion, halved lengthwise
1 pound yellow and green squash, chopped (about 4 medium squash)
2 bell peppers, any color variety
1 cup whole cherry tomatoes
½ teaspoon sea salt
½ teaspoon freshly ground black pepper
Directions
Combine the garlic, preserved lemon, onion, capers, anchovies, and vinegar in a food processor until the ingredients come together. Add the fresh herbs, with the motor running, drizzle in the olive oil until a bright green, chunky mixture forms. Squeeze in the lemon juice and season with a pinch of sea salt. Set aside.

In a large bowl, add the prepped veggies and a ¼ cup of the salsa verde. Toss until evenly coated and season lightly with salt and pepper.

Grill the vegetables at 450°F until they have cooked through and have marks on both sides from the grill. Transfer to a serving plate, drizzle with a few tablespoons of the salsa verde, garnish with basil leaves and serve immediately.

Notes

Double or triple the salsa verde recipe and save some for later! In addition to grilled vegetables, it's delicious as a topping on fish, chicken or steak. Store in an airtight container for up to 3 days or freeze for later use.
Nutrition
Calories: 170kcal | Carbohydrates: 11g | Protein: 1g | Fat: 14g | Saturated Fat: 2g | Cholesterol: 0mg | Sodium: 260mg | Fiber: 3g