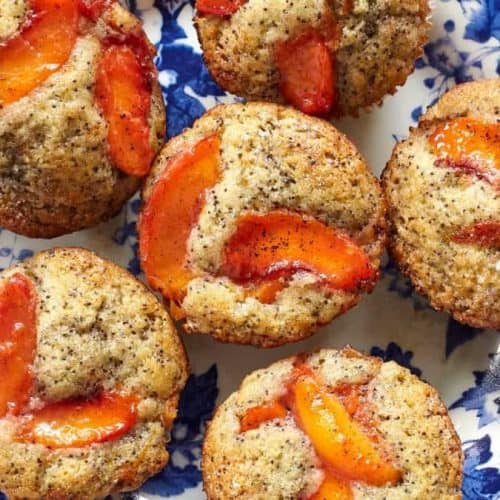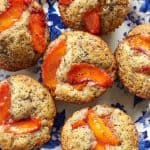 Ingredients
Saucy Peaches
1 large ripe yellow peaches, halved, pitted, and thinly sliced
1/4 cup sugar in the raw, organic white
Zest of 1 lemon
1 vanilla bean, seeds scrapped (optional)
2 tablespoons freshly squeezed lemon juice
Muffins
1 1/2 cups all-purpose flour (or 1 cup all-purpose flour + 1/2 cup whole wheat flour)
2 tablespoons poppy seeds
1 teaspoon baking soda
1 1/2 teaspoons baking powder
1 teaspoon kosher salt
1 large egg
1/4 cup canola oil
1/2 cup sugar in the raw, organic white + 1 tablespoon for sprinkling over top
1/2 cup whole milk plain Greek yogurt
2 tablespoons unsoftened butter, softened
1 teaspoon almond extract
Directions
Preheat the oven to 350°F. Line a 12-cup muffin tin with paper cupcake liners.

In a medium saucepan, combine the peaches, sugars, lemon zest, and scraped vanilla bean (optional). Cook over medium-high heat until the peaches are cooked but still somewhat intact, about 10 minutes. Remove from heat and discard vanilla pod, if used. Stir in the lemon juice and set aside.

In a large mixing bowl, combine the flour, poppy seeds, baking soda, baking powder, and salt. In a smaller mixing bowl, whisk the egg lightly. To the egg, add the oil, sugar, yogurt, butter, and almond extract, whisking until they are well combined. Pour the liquid ingredients into the dry, and whisk just until blended. Fold in half of the cooked peaches.

Spoon the batter into the prepared muffin tins, filling cups almost to the top. Top each muffin with about two to three peaches and a sprinkle of sugar.

Bake for 25 to 30 minutes, or until the muffins are golden brown and spring back lightly when pressed in the center. Immediately turn the muffins out on to a wire rack to cool for at least 20 minutes.

Muffins will keep well in an airtight container for up to 2 days, or in the refrigerator for up to 3 days.
Nutrition
Calories: 212kcal | Carbohydrates: 33g | Protein: 4g | Fat: 8g | Saturated Fat: 2g | Cholesterol: 20mg | Sodium: 350mg | Fiber: 2g