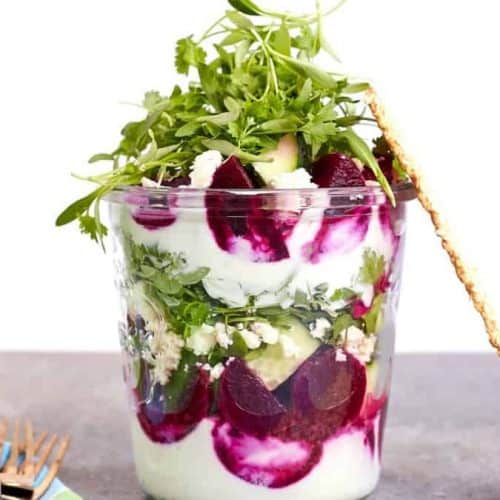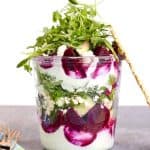 Ingredients
12 ounces cooked red beets, chilled and quartered
1 tablespoon extra-virgin olive oil
2 teaspoons red wine vinegar
1/8 teaspoon sea salt
2 cups low-fat plain Greek yogurt
1/2 cup cucumber, chopped into 1/2-inch cubes
1 ounce feta cheese, crumbled
3 cups microgreens, such as micro cilantro or micro basil
freshly ground black pepper, if desired
Directions
In a small bowl, stir together the beets, olive oil, vinegar, and sea salt. Set aside.

Layer in a half cup of yogurt into the bottoms of two mason jars or other tall glass jars. Top each yogurt layer with some of the beets, some of the cucumber, and half of the feta cheese. Add a thick layer of micro greens and repeat by layering in the remaining yogurt, beets, cucumbers, and cheese. Season with black pepper, if desired, and garnish the tops of each with a generous amount of micro greens.

Enjoy immediately or keep chilled until ready to serve.
Nutrition
Calories: 350kcal | Carbohydrates: 28g | Protein: 28g | Fat: 16g | Saturated Fat: 6g | Cholesterol: 30mg | Sodium: 660mg | Fiber: 4g