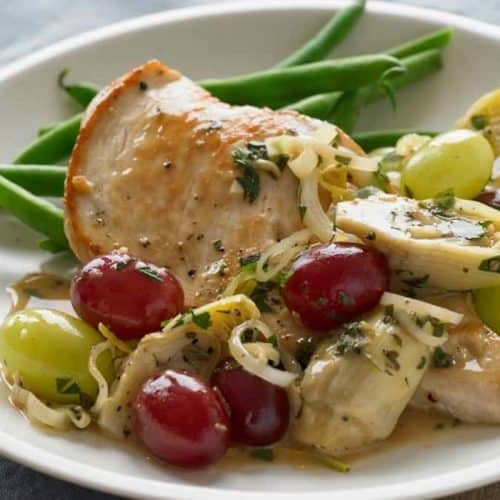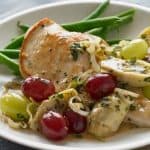 Ingredients
2 (8 ounce) boneless, skinless, chicken breasts, butterflied lengthwise into 4 cutlets
2 tablespoons olive oil (divided)
2 cloves of garlic, minced
1 leek, white part only, halved and thinly sliced
2 tablespoons fresh oregano, chopped
1 1/2 cups quartered artichoke hearts, frozen or canned/jarred
1/2 cup dry white wine
1/2 cup low-sodium chicken stock
1 tablespoon fresh lemon juice
1/2 tablespoon lemon zest
2 teaspoons butter
3/4 cup green California grapes
3/4 cup red California grapes
2 tablespoons flat leaf parsley, chopped
Salt and pepper to taste
Directions
Season chicken breasts with salt and pepper. Heat one tablespoon olive oil in a sauté pan over medium-high heat. Add chicken breasts and sear for 3 to 4 minutes per side. Remove the chicken and set aside.

Add remaining tablespoon of olive oil to the pan along with the garlic, leek and a pinch of salt; cook on medium heat 2-3 minutes to soften the leeks. Stir in the oregano, artichokes, wine, chicken stock, lemon juice, lemon zest and butter. Simmer for 2-3 minutes, then add the chicken back to the pan, basting each breast with the sauce. Add the grapes and simmer for 3-5 minutes or until the grapes are just soft and the chicken is cooked through. Stir in fresh parsley and serve.

Image and recipe adapted from Grapes from California.
Nutrition
Calories: 320kcal | Carbohydrates: 23g | Protein: 26g | Fat: 12g | Saturated Fat: 3g | Cholesterol: 70mg | Sodium: 390mg | Fiber: 5g