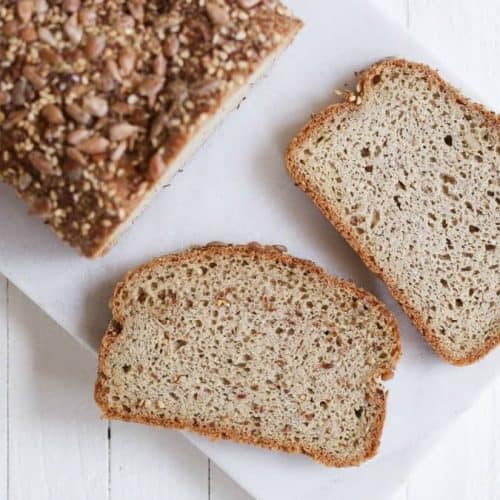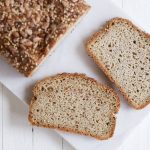 Ingredients
2 tablespoons sunflower seeds
1 tablespoon sesame seeds
1 tablespoon ground flax seeds
2 cups finely ground almond flour
1/4 cup psyllium husk powder
1 tablespoon baking powder
1/4 teaspoon fine sea salt
4 large beaten eggs, room temperature
1/8 cup full fat Greek yogurt
1/2 cup, plus 1 tablespoon warm water
Directions
Preheat the oven to 350ºF. Line an 8-inch loaf pan with parchment paper.

In a small bowl, combine the sunflower, sesame and flax seeds. Set aside.

In a large bowl, whisk the almond flour, psyllium husk powder, baking powder, salt and half the seed mixture thoroughly. Using a hand mixer on medium speed, beat in the eggs, Greek yogurt and water. Increase the speed to high for 15 seconds. Mix well to create air bubbles to help with the rise.

Transfer the batter to the baking pan. Pat and smooth the top with wet hands, making sure to create a slightly rounded top. Sprinkle the remaining seed mixture over the batter and press gently to adhere the seeds into the batter.

Bake for 55 minutes. Once an inserted toothpick comes out clean, continue to bake for another 10-15 minutes. The bread is done when the top of the loaf is hard. Cool completely in the pan before removing and serving. Cut the loaf into 16 slices and enjoy!

The additional bake time after the bread passes the toothpick test ensures the middle cooks properly and the bread does not come out gummy. 

To ensure this recipe is gluten-free, chose a gluten-free baking powder, such as Rumford, Clabber Girl, Featherweight, or Bakewell Cream.
Nutrition
Calories: 130kcal | Carbohydrates: 8g | Protein: 5g | Fat: 10g | Saturated Fat: 1g | Cholesterol: 45mg | Sodium: 130mg | Fiber: 5g