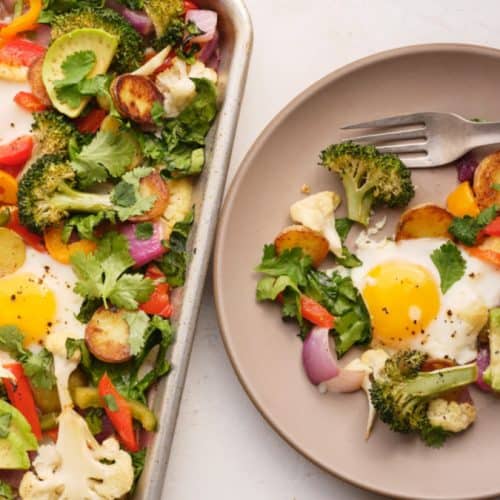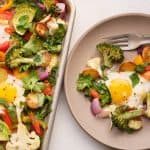 Ingredients
1 pound baby potatoes, halved
2 1/2 tablespoons Sun Harvest Extra Virgin Olive Oil*
1/2 teaspoon sea salt
1/2 large red onion, chopped
2 cups First Street Frozen Broccoli Florets*
1/2 head cauliflower, chopped into florets
2 cups First Street Frozen Pepper Strips*
1 cup First Street Frozen Chopped Spinach*
6 large Sun Harvest Cage-Free Eggs*
1/2 teaspoon freshly ground black pepper
1 large avocado, sliced
1/2 cup fresh cilantro, chopped
*Available at Smart & Final grocery & warehouse stores
Directions
Preheat the oven to 425°F.

Add the halved potatoes and chopped red onion to a rimmed baking sheet, drizzle with 1 tablespoon olive oil, season with ¼ teaspoon salt, and spread potatoes cut-side down in an even layer on the sheet pan. Roast until golden on the edges, about 20-25 minutes. 

Remove the sheet pan from the oven, and add the broccoli, cauliflower, and pepper strips. Drizzle with 1 ½ tablespoons olive oil and season with ¼ teaspoon of salt. Return pan to the oven and bake for about 5 minutes. 

Remove sheet pan once again, and mix in spinach. Make 6 small wells in the hash with the back of a spoon. Crack an egg into each well and bake until whites are just set, about 5 to 7 minutes. Season eggs with salt and pepper, top with sliced avocado and fresh cilantro, and serve immediately.  
Nutrition
Calories: 190kcal | Carbohydrates: 9g | Protein: 9g | Fat: 14g | Saturated Fat: 3g | Cholesterol: 185mg | Sodium: 290mg | Fiber: 4g