This rolled stuffed turkey breast recipe takes a spin on the classic whole turkey with a skillet version using turkey cutlets.
The cutlets are stuffed with a vegetarian stuffing replete with celery, onion, mushrooms, spinach, dried cranberries, and sourdough bread. The dish is cooked in a cranberry-based sauce on an iron skillet to add a pop of sweetness and a traditional holiday feel.
---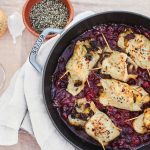 This rolled stuffed turkey breast recipe takes a spin on the classic whole turkey with a skillet version and a vegetarian stuffing.
Prep Time 15 minutes
Cook Time 45 minutes
Total Time 1 hour
Ingredients
stuffing
3 tablespoons extra-virgin olive oil
1 large yellow onion, chopped
1 teaspoon dried thyme
1 clove garlic, minced
3 stalks of celery, chopped 
1 (4 ounce) can mushrooms, drained and chopped
1/2 cup dried cranberries
3 cups fresh baby spinach
4 thick slices old fashioned sourdough bread, cut into 1-inch pieces
2 cups reduced-sodium chicken broth, divided
cranberry sauce
3 cups whole fresh cranberries, or frozen and thawed
1 cup 100% orange juice
1/4 cup pure maple syrup
turkey
6 skinless turkey breast cutlets (~2 lbs)
1/2 teaspoon kosher salt
1/2 teaspoon freshly ground black pepper
Directions
Make the stuffing: Heat a skillet over medium heat. Once hot, add one tablespoon of the oil, onions, thyme, garlic, and celery on medium heat until translucent and fragrant, stirring frequently, about 5-7 minutes. Stir in the mushrooms, dried cranberries, spinach, bread, and one cup of broth. Reduce the flame to low and cover the pan for 5 minutes. Season with salt and pepper to taste. Remove from heat and set aside. 

Make the sauce: In a small saucepan, boil cranberries, orange juice, and maple syrup over high heat. Once the mixture reaches a boil, lower to a simmer to reduce to a thick sauce, about 10 minutes. Pour cranberry sauce in an oven safe dish and set aside.

Make the turkey rolls: Preheat oven to 400°F. Pound the turkey cutlets to make them easier to roll. Season each cutlet with salt and pepper. Add about ½ cup of the stuffing to each cutlet. Wrap one end of the cutlet tightly over the stuffing and continue to roll the meat until it fully wraps into a cylinder shape. Add any stuffing that may have fallen out back in with a spoon. Secure the stuffed cutlets with toothpicks or string. 

Heat the previously used skillet over medium-high heat with the remaining two tablespoons of oil. Once reheated, sear meat on the skillet for 2-3 minutes. Add the turkey rolls to the cranberry sauce in the oven safe dish. Top with the remaining cup of broth. Bake for about 20 minutes, until the turkey rolls are cooked through but not overcooked.
Nutrition
Calories: 460kcal | Carbohydrates: 50g | Protein: 42g | Fat: 10g | Saturated Fat: 1.5g | Cholesterol: 85mg | Sodium: 830mg | Fiber: 5g