Need a fun boost of nutrition? These muesli carrot cake energy balls are packed with flavor and nutrients and are an easy-to-make balanced snack.
The combination of complex carbohydrates and fiber (muesli + carrots), protein (almond protein powder + almond butter), and healthy fats (almond butter + pecans) makes these a perfect balanced snack. Plus, the dates and spices provide an added touch of natural sweetness and a pop of flavor. They're simple to make with ingredients you can easily keep on hand, and you'll always be prepared for a quick and delicious anytime snack.
---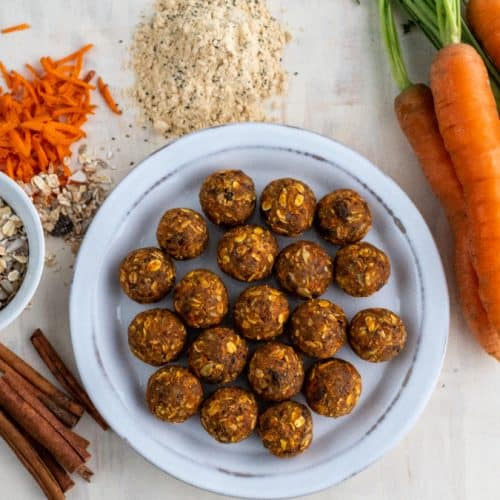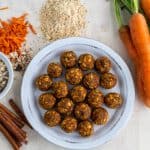 Prep Time 10 minutes
Total Time 1 hour 10 minutes
Ingredients
1 cup shredded carrots
1/3 cup almond protein powder
1/4 cup almond butter
1/3 cup pecans
1/2 cup Medjool dates, pitted
1/2 teaspoon cinnamon
1/4 teaspoon ginger
pinch nutmeg and cloves
1/2 teaspoon sea salt
1 tablespoon coconut oil
1/4 teaspoon vanilla extract
1 cup muesli
Directions
In a food processor, combine all ingredients except the muesli and blend together until a sticky dough forms.

Measure 1 cup of muesli in a medium bowl, then add the carrot mixture. Using your hands, mix together the muesli and carrot mixture.

Once your dough is well mixed, take about 1 tablespoon of the mixture and roll it into a ball. Place on a plate or baking sheet, and then finish rolling the rest of the dough out. (Makes about 25 balls). Refrigerate for 1 hour, then enjoy!

Recipe and image courtesy of Bob's Red Mill.
Nutrition
Calories: 90kcal | Carbohydrates: 9g | Protein: 3g | Fat: 5g | Saturated Fat: 1g | Cholesterol: 0mg | Sodium: 50mg | Fiber: 2g