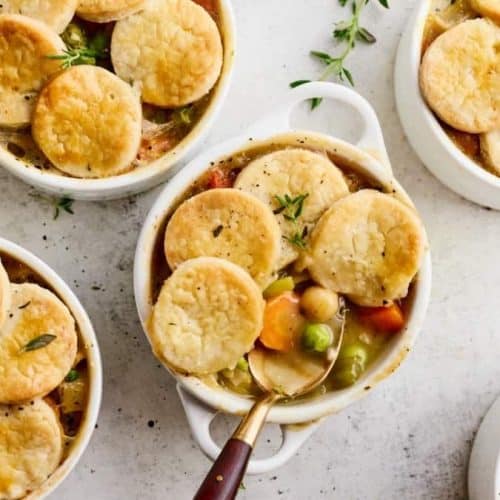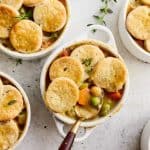 Ingredients
Filling
3 tablespoons extra virgin olive oil
2 large leeks, roughly chopped
6 cloves garlic, minced
2 cups carrots, peeled and finely chopped
2 cups turnips, diced
1 cup celery, peeled and finely chopped
1 tablespoon fresh thyme, plus extra for garnish
1 teaspoon sea salt
½ teaspoon freshly ground black pepper
5 tablespoons all-purpose flour
¾ cup dry white wine
4 cups low-sodium vegetable broth
1 ½ cups frozen green peas
1(15 ounce) can garbanzo beans, canned, drained and rinsed
Crust
1 ½ cups all-purpose flour
½ teaspoon sea salt
¼ cup coconut oil, cold
¼ cup extra virgin olive oil
4 to 5 tablespoons ice water
Directions
Make the filling: Heat a large heavy-bottomed saucepan over medium-high heat. Add the oil, leeks, and garlic and cook until soft and translucent, about 5 minutes. Add the carrots, turnips, celery, thyme, and season with salt and pepper. Cook for 5 minutes, then add the flour and mix well to evenly coat. Let the flour cook out for 6 minutes, then pour over the wine and vegetable broth, scraping the bottom of the pan with a wooden spoon to lift up any browned bits. Bring the mixture to a full simmer and cook until the filling has slightly thickened, about 10 minutes. Add in frozen peas and garbanzo beans and stir to combine. Cover and remove from heat while preparing crust.

Make the crust: Combine the flour and salt in mixing bowl and whisk to combine. Add in the coconut and olive oils and using a pastry cutter or fork, cut the butter into the flour. Add the ice water 1 tablespoon at a time until the dough just barely comes together in one mass. Gather any loose scraps, form the dough into a disc, and transfer to a work surface. Lightly dust the dough with flour and using a rolling pin, roll out to about ¼ inch thick. Using a 1 ½ inch circle cookie cutter, cut dough into small rounds that fit within your ramekins. Re-roll scraps to create more rounds, if needed.

Assemble: Preheat the oven to 400°F and arrange eight, 4-inch ramekins on a baking sheet. Spoon the pie filling into the ramekins and arrange the dough circles over the top of the filling to form the crusts. Bake for 35 minutes, or until the filling is bubbling along the sides and the crusts are golden brown. Let cool for 5 minutes before serving.

Note: Pies will keep well covered in the refrigerator for up to 4 days or frozen for up to 2 months.
Nutrition
Calories: 350kcal | Carbohydrates: 48g | Protein: 8g | Fat: 13g | Saturated Fat: 6g | Cholesterol: 0mg | Sodium: 740mg | Fiber: 7g