Classic S'mores are taken to a whole new level by adding roasted strawberries. These strawberry s'mores are the perfect summertime treat.
S'mores are an iconic summer treat, beloved for their combination of toasted marshmallows, chocolate, and graham crackers. This s'mores in the oven recipe elevates the classic dessert by incorporating the vibrant flavors of fresh strawberries. 
To make these strawberry s'mores an anytime treat, try oven-toasting the marshmallows! You can enjoy this mouthwatering twist without the need for a campfire. It is the perfect blend of sweet and tangy, all in the comfort of your own kitchen.
How to Make S'mores in the Oven with Strawberries
Once you know about strawberry s'mores in the oven, it's hard to go back! With just one baking sheet, you can have your creations done in bulk in no time.
Start out by roasting your strawberries with the honey and vanilla extract, and baking them for 20-25 minutes. Then toast the marshmallows in the oven. Assemble your strawberry s'mores with the graham cracker base, a marshmallow, roasted strawberries, chocolate, and another piece of graham cracker. 
---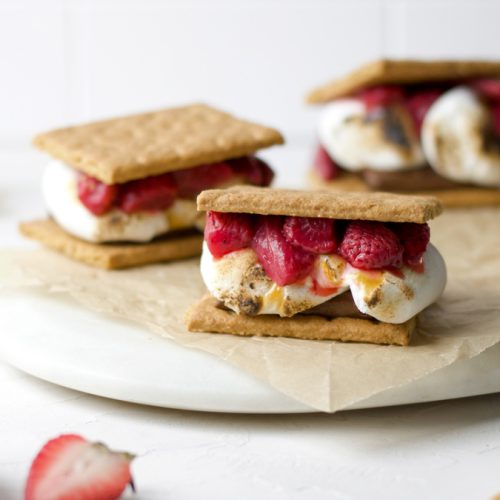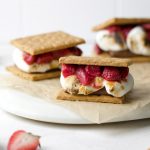 Prep Time 20 minutes
Cook Time 30 minutes
Ingredients
1 pound strawberries, hulled and quartered
2 tablespoons honey
1 teaspoon vanilla extract
8 large marshmallows
4 (1.55 ounce each) milk chocolate bars, halved
8 honey Graham cracker sheets, broken in half into 8 squares
Directions
Roast the strawberries: Preheat oven to 450°F and line a baking sheet with a silicone mat or parchment paper. (Using a silicone mat helps you slide the berries off into the jar when done.)

In a large bowl, combine strawberries, honey, and vanilla extract. Transfer strawberry mixture to the lined baking sheet.

Bake for 20-25 minutes, remove from oven, and allow berries to cool to room temperature. Once cooled, transfer roasted berries to a glass jar. (Tip: You can refrigerate roasted berries for up to a week.)

Assemble the s'mores: Toast marshmallows until golden and gooey. Place a piece of chocolate onto the Graham cracker, top with gooey marshmallow, drizzle with roasted berries (at room temperature not chilled), and top with another Graham cracker. Enjoy immediately!

Recipe and image courtesy of California Strawberries.
Nutrition
Calories: 246kcal | Carbohydrates: 40g | Protein: 3g | Fat: 8g | Saturated Fat: 4g | Cholesterol: 11mg | Sodium: 106mg | Fiber: 1g