Whether planning a Sunday brunch or 4th of July party, a fresh and healthy fruity summer cocktail like these Skinny Strawberry Watermelon Mojitos should fit the bill anytime
This Strawberry Watermelon Mojito Cocktail recipe perfectly celebrates the vibrant colors of fruit, while providing a refreshing twist on a classic cocktail. With just a few simple steps, you can enjoy a revitalizing drink that is perfect for entertaining guests. 
Fun Facts About Strawberries
California's 300+ strawberry farmers grow 90% of the U.S.-grown strawberries, many on multigenerational family-owned farms. They create 70,000 jobs, investing 97 cents of every farm dollar back into the local community.  
California's strawberries are available year-round, so you can enjoy this strawberry mojito throughout the warm months.
Health Benefits of Strawberries
Eight large strawberries have less than 8g of sugar and just under 50 calories. Clinical research suggests that eating just one serving of eight strawberries a day may improve:
heart health
help manage diabetes
support brain health
reduce the risk of some cancers. 
Plus, one cup of strawberries has 95% of the daily value of vitamin C for the day. Findings from a clinical research study suggest eating strawberries may help reduce blood sugar levels and inflammation, especially when consumed two hours before a meal. 
How to Create a Strawberry Mojito With Watermelon
To make this strawberry mojito cocktail with watermelon, start by adding the lime juice and mint to a pitcher. Blend the strawberries and watermelon, and add to the pitcher with rum and sparkling water as well. Mix well and serve cold!
---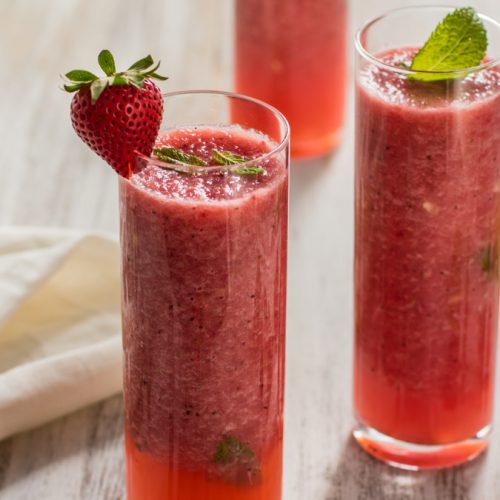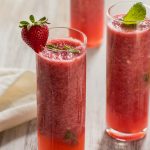 Ingredients
1/4 cup lime juice
20 fresh mint leaves
2 cups strawberries, halved
2 cups watermelon, cut into 1-inch cubes
6 ounces light rum
12 ounces sparkling water
Directions
In a pitcher, combine the lime juice with 12 mint leaves.

Put the strawberries and watermelon in the blender. Blend until smooth.

Pour the blender mixture into the pitcher. Add rum and sparkling water to the pitcher, stirring until well combined.

Serve chilled using a mint leaf and fresh strawberry for garnish.

Recipe and image courtesy of California Strawberries.
Nutrition
Calories: 49kcal | Carbohydrates: 6g | Protein: 0.5g | Fat: 0g | Saturated Fat: 0g | Cholesterol: 0mg | Sodium: 8mg | Fiber: 1g