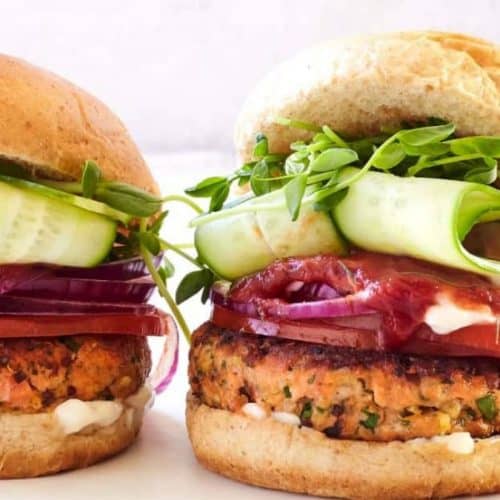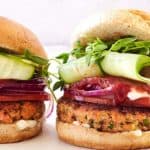 Ingredients
Salmon Patties
1 pound fresh or frozen salmon (or 14.75 oz. canned salmon)
1 cup cooked organic super grains, blend of quinoa, millet & buckwheat (or 2/3 cup whole grain breadcrumbs)
2 tablespoons organic tomato paste
1 tablespoon lemon zest plus juice of ½ lemon
½ teaspoon garlic powder
¼ teaspoon sea salt
¼ teaspoon ground black pepper
2 large eggs, lightly beaten
½ cup fresh chopped herbs, such as chives and dill
1 tablespoon avocado oil or sunflower oil (for pan frying)
TO ASSEMBLE
5 whole wheat hamburger buns
1 medium tomato, thinly sliced
½ red onion, thinly sliced
1 medium cucumber, thinly sliced lengthwise into ribbons
1 cup fresh greens
Your favorite condiments, such ketchup, mustard, and/or mayonnaise
Directions
If using frozen salmon, preheat the oven to 350ºF and line a baking sheet with parchment paper. (If using canned salmon, disregard this step). Season the salmon with salt and pepper and set on the parchment lined baking pan skin side down. Bake for 15 to 20 minutes until cooked through. Let salmon cool 10 minutes.

Place the baked or canned salmon into a large mixing bowl. Add the cooked super grains (or breadcrumbs), tomato paste, lemon zest, lemon juice, garlic powder, and season with salt and freshly ground black pepper. Mix until well combined. Add the eggs and fold in the herbs until well distributed.

Form the salmon mixture into 5 patties about 1-inch thick. (Patties can be formed in advance and will keep well for up to 2 days in the refrigerator or up to 1 month in the freezer). Heat a large skillet over medium-high heat. Add the oil to the skillet and cook each patty for 2 to 3 minutes per side, until golden brown on the edges.

To serve, toast the burger buns and spread the bottom bun with mayonnaise or preferred condiments, place salmon patties on the bottom buns, and pile high with tomato, red onion, cucumber, and greens. Top with other desired condiments such as ketchup and mustard. Close with top bun and serve.
Nutrition
Calories: 390kcal | Carbohydrates: 37g | Protein: 30g | Fat: 14g | Saturated Fat: 2.5g | Cholesterol: 125mg | Sodium: 490mg | Fiber: 5g