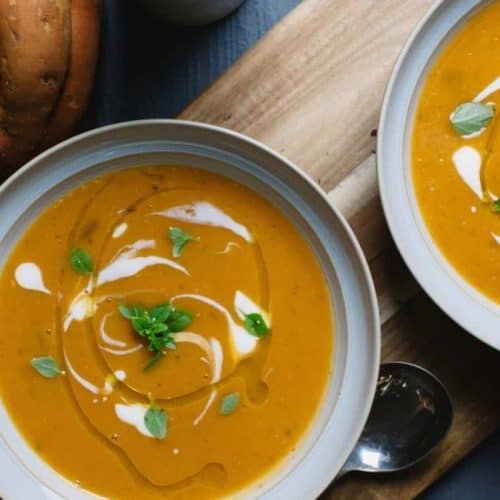 Ingredients
2 tablespoons extra-virgin olive oil
1 small onion, diced
1/2 teaspoon kosher salt
1 clove garlic, chopped
2 large sweet potatoes (about 1 ½ pounds), peeled and cut into 1-inch cubes
1 large red apple, peeled, cored and diced
2 teaspoons ground ginger
2 teaspoons ground turmeric
4 cups low-sodium chicken or vegetable broth
A few fresh herbs for garnish, such as basil or oregano (optional)
A drizzle of plain Greek yogurt for garnish, thinned out with orange juice or water as needed (optional)
Directions
In a large pot, heat the oil over medium heat. Add the onion and season with salt. Cook until translucent, about 5 minutes.

Add the garlic and cook for about 2 more minutes, until fragrant. Add the sweet potatoes, apple, ginger, and turmeric. Cook for 1 minute. Add the broth and raise the heat to medium-high, bringing the mixture to a boil. Reduce the heat to low and let simmer for about 30 minutes or until the sweet potatoes are fork tender.

Using a blender or hand-held stick blender, puree the mixture. Return the mixture to the pot over medium-low heat until ready to serve. Just before serving, garnish with a few fresh herbs and drizzle of Greek yogurt, if desired. Enjoy immediately while warm.
Nutrition
Calories: 140kcal | Carbohydrates: 19g | Protein: 4g | Fat: 6g | Saturated Fat: 1g | Cholesterol: 0mg | Sodium: 260mg | Fiber: 3g