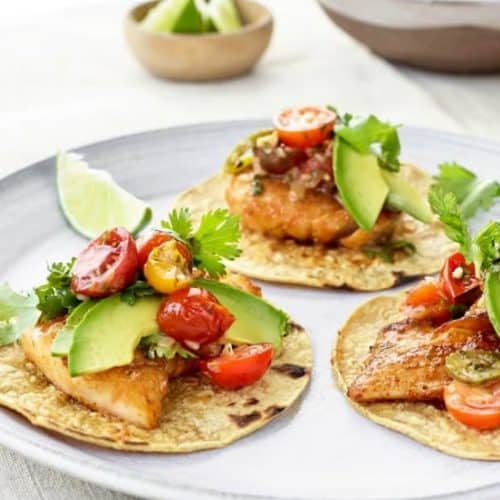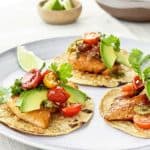 Serving Size = 2 street tacos
Ingredients
Fish Tacos
1 tablespoon olive oil
1 large shallot, minced
3 garlic cloves, finely minced
1 fresh jalapeño, sliced
1 ½ cups baby cherry tomatoes, halved or quartered
3 tablespoons fresh lime juice
¼ cup fresh cilantro, chopped
1 teaspoon sweet paprika
½ teaspoon ground cumin
½ teaspoon kosher salt
½ teaspoon ground black pepper
1 pound (or four, 4-ounce fillets) firm white fish, such as tilapia, cod, mahi mahi, or halibut (fresh or frozen and thawed)
12 (4-inch) corn tortilla "sliders"
Garnish
½ medium avocado, sliced
¼ cup fresh cilantro, chopped
6 lime wedges
Directions
Heat a small skillet with the olive oil over medium heat. Add the shallot, garlic, and jalapeño and sauté until fragrant, about 6 minutes. Stir in the cherry tomatoes and lime juice and cook until the tomatoes have wilted down slightly and the mixture looks like a loose sauce. Remove from heat, add the fresh cilantro, and transfer to a small bowl for serving.

In a small bowl, combine the paprika, cumin, salt, and pepper. Season the fish with the paprika mixture. Heat a large skillet to medium-high heat and sauté the fish for 2 to 3 minutes on each side until cooked through.

To serve, warm 12 tortillas in a skillet or crisp lightly over an open flame, and transfer to plates. Layer a few pieces of the fish onto the tortillas and spoon over the cherry tomato sauce. Top with avocado slices and a few cilantro leaves. Serve the tacos with lime wedges and enjoy immediately.
Nutrition
Calories: 170kcal | Carbohydrates: 14g | Protein: 17g | Fat: 6g | Saturated Fat: 1g | Cholesterol: 40mg | Sodium: 250mg | Fiber: 2g