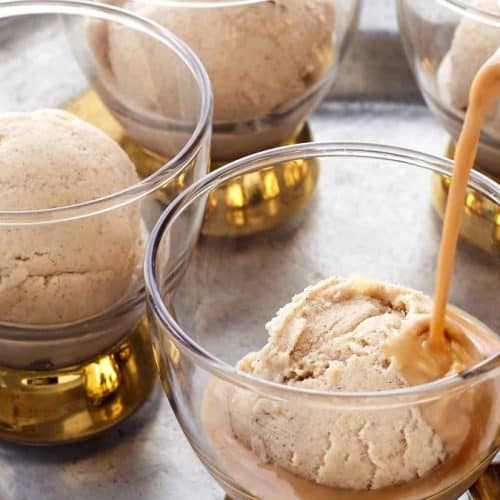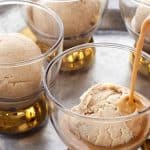 Ingredients
Vanilla Frozen Yogurt
4 frozen bananas, sliced
1 cup plain nonfat Greek yogurt
¼ cup almond butter
½ teaspoon vanilla extract
½ teaspoon flaky sea salt
Chai Tea
3 cups unsweetened almond milk
½ cup water
2 tablespoons maple syrup
1 teaspoon ground cinnamon, plus more for sprinkling
½ teaspoon vanilla extract
½ teaspoon ground ginger
¼ teaspoon ground turmeric
¼ teaspoon ground black pepper
1/8 teaspoon ground cloves (a pinch)
1/8 teaspoon ground cardamom (a pinch)
4 chai tea sachets (or vanilla chai tea sachets)
Directions
In the bowl of a food processor, combine the frozen banana slices, Greek yogurt, almond butter, vanilla, and salt and process until smooth, about 3 minutes. The yogurt base should be thick and creamy. Transfer the mixture to an airtight container and place in the freezer for at least 3 hours to firm up.

When ready to serve, combine the almond milk, water, maple syrup, cinnamon, vanilla, ginger, turmeric, black pepper, cloves and cardamom in a medium saucepot and bring to a simmer. Add the chai tea sachets and let steep for 5 minutes until diffused and then discard the sachets.

Place one scoop of the frozen yogurt into desired serving glasses or mugs. Divide the hot tea amongst the glasses by carefully pouring it over top. Sprinkle with cinnamon and serve immediately.

Notes

The yogurt mixture will keep for up to 1 week in the freezer; let thaw about 20 minutes before serving.
Nutrition
Calories: 140kcal | Carbohydrates: 20g | Protein: 5g | Fat: 5g | Saturated Fat: 0g | Cholesterol: 0mg | Sodium: 370mg | Fiber: 3g | Sugar: 12g