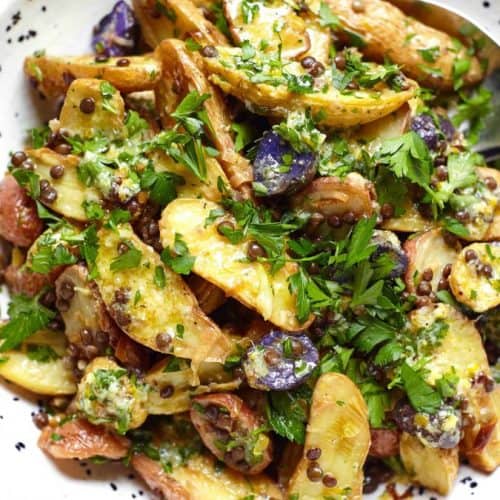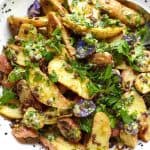 Ingredients
Salad
2 ½ pounds multi-colored fingerling potatoes, rinsed and sliced lengthwise
1 large leek, (white part) halved lengthwise and sliced
2 teaspoons extra virgin olive oil
½ cup black or green lentils, dry
Dressing
¼ cup extra virgin olive oil
Zest of 1 orange
3 tablespoons orange juice
2 teaspoons apple cider vinegar
1 teaspoon honey
½ teaspoon Dijon mustard
½ teaspoon salt
½ teaspoon black pepper
2 tablespoons Parmesan cheese, finely grated
Garnish
½ bunch fresh chives, finely chopped
½ bunch fresh parsley, roughly chopped
Directions
Preheat the oven to 375°F.

On a large sheet pan, toss the potatoes and leeks with the olive oil, season with salt and black pepper, and roast for 30 minutes, until the leeks are lightly crispy and the potatoes are golden on the edges.

Meanwhile cook the lentils: In a small pot of boiling water cook until soft yet still al dente, about 25 minutes. Drain and set aside to cool slightly.

To make the dressing: whisk to combine the olive oil, orange zest, orange juice, vinegar, honey, mustard, season with salt and black pepper, and stir in the Parmesan until incorporated. Taste to adjust for seasonings. 

To serve: In a large mixing bowl, combine the roasted potatoes and leeks, lentils, and pour over the dressing. Add the chopped herbs and lightly toss until the dressing is distributed throughout. Transfer to plates or one large serving dish, and top with more herbs if desired. Best enjoyed warm or at room temperature.
Nutrition
Calories: 220kcal | Carbohydrates: 21g | Protein: 4g | Fat: 16g | Saturated Fat: 2.5g | Cholesterol: 0mg | Sodium: 170mg | Fiber: 2g