This pistachio pesto is a great way to elevate your cookout for whatever you're grilling with family and friends.
Fish fillets, beef burgers, chicken breasts, plant-based patties, you name it! This recipe will elevate your dish to the next level. Pistachio pesto is a beautifully vibrant spread that is full of nutrients and health benefits.
How is Pistachio Pesto Different From Regular Pesto
Regular pesto is made with basil and pine nuts as the primary ingredients. In this variation, green pistachios are added to the base with basil. This keeps the vibrant green color, but offers a slightly different flavor and nutrient profile you can't beat!
Nutrient Benefits of Homemade Pistachio Pesto
While most condiments are often loaded with salt and fillers, this homemade pesto is plant-powered with pistachio goodness. Pistachios are a good source of plant protein and fiber. One serving of pistachios provides 6 grams of complete, plant protein and 3 grams of fiber.
How to Make This Pesto 
Simply blend together pistachios with basil, garlic, lemon juice, olive oil, and Parmesan cheese (or nutritional yeast for a vegan option). It's as easy as that!
What to Enjoy Pesto With
This pesto pairs well with appetizer dishes, like Caprese Pesto Crostinis. Spread about 1 teaspoon of Pistachios Basil Pesto on slices of toasted whole grain baguette. Top with a slice of fresh mozzarella cheese, a slice of tomato, and a basil leaf. A simple, colorful, and delicious option.
Pesto can also be a great addition to eggs, sandwiches, burgers, and more!
---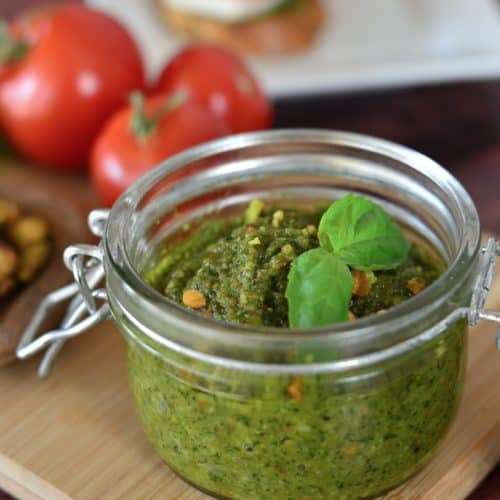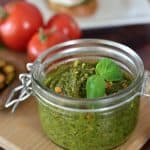 Ingredients
1/2 cup pistachios, no shells, roasted & salted
2 cups fresh basil
2 garlic cloves, minced
1 teaspoon lemon juice
1/4 cup grated Parmesan cheese*
1/4 cup extra-virgin olive oil
salt to taste
*to make vegan, substitute nutritional yeast for Parmesan cheese
Directions
Add pistachios, basil, garlic, lemon juice, lemon zest, and Parmesan cheese to a food processor. Pulse until nuts are finely chopped. Stream olive oil through food chute and puree until smooth.

Serve immediately or store in refrigerator up to three days. Can also freeze pesto up to one month.

Recipe and image courtesy of Wonderful Pistachios.
Nutrition
Calories: 45kcal | Carbohydrates: 1g | Protein: 1g | Fat: 4.5g | Saturated Fat: 0.5g | Cholesterol: 0mg | Sodium: 45mg | Fiber: 0g