Indulge in this comforting and wholesome Creamy Slow-Cooker Potato Leek Soup with Skyr. It combines the soothing qualities of a classic soup with the nutritional benefits of Icelandic Provisions Low Fat Plain Skyr.
This creation is perfect for those looking to savor a bowl of warmth and nourishment when you crave a delicious and satisfying meal. The star ingredient in this recipe is Icelandic Provisions Low Fat Plain Skyr, which not only lends creaminess to the soup, but also brings a wealth of nutrients to the table.
What is Skyr?
Skyr is an Icelandic yogurt that's sustained Icelanders for nearly 1,000 years. It is a dairy product with its high protein content bringing it to center stage. Icelandic Provisions is the only skyr made in the U.S. that uses an original Icelandic recipe and heirloom Icelandic skyr cultures. That's what helps make it thick, creamy, and delicious. A fantastic addition to this soup that also promotes satiety.
Additionally, this choice of skyr is naturally low in fat, making it a wholesome choice for those seeking to enjoy a creamy texture without the typical fat content.
Inside Icelandic Food Philosophy
Everything made at Icelandic Provisions is inspired by Iceland. Their food philosophy follows a set of guidelines inspired by Nordic food philosophy, focused on creating products that are wholesome, filling, and delicious. They are also committed to creating food that is:
free of artificial flavors, colors, sweeteners or preservatives
rich in flavor, texture, and sustenance
Icelandic at heart
Wholesome Ingredients in this Potato Leek Soup with Skyr
This soup also features a blend of other ingredients, including Yukon gold potatoes, leeks, fresh rosemary, and Gouda cheese. These foods contribute a medley of nutrients, such as fiber, vitamins, and minerals. Moreover, the slow cooking process allows these ingredients to meld together, resulting in a velvety smooth texture.
Whether it's a comforting dinner or a weekend indulgence, this Creamy Slow-Cooker Potato Leek Soup with Skyr offers an easy and delicious way to stay nourished.
---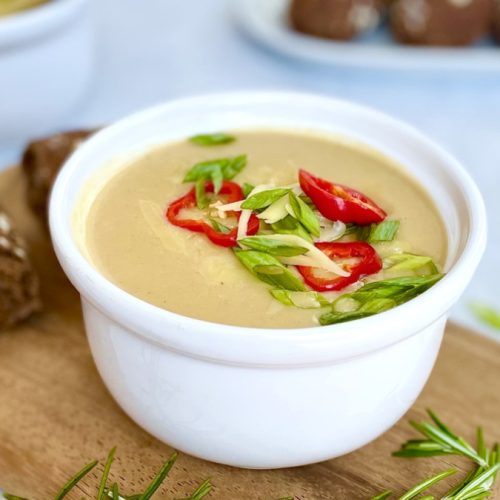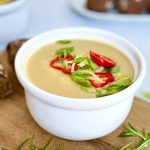 Prep Time 20 minutes
Cook Time 4 hours 7 minutes
Ingredients
2 tablespoons extra-virgin olive oil
2 large leeks, white and light green parts, washed and sliced
2 large garlic cloves, minced
2 1/2 pounds unpeeled Yukon gold potatoes, cut into 3/4-inch cubes
2 teaspoons minced fresh rosemary
1 3/4 teaspoons sea salt, or to taste
1/8 teaspoon crushed red pepper flakes
1/8 teaspoon smoked paprika
5 1/2 cups low-sodium vegetable or chicken broth
1 cup Icelandic Provisions Low Fat Plain Skyr, or about 2 (5.3-ounce) containers, room temperature
1 cup shredded Gouda cheese (4 ounces)
Extra-thinly sliced red hot pepper or hot pepper sauce to taste (optional)
2 scallions, green part only, thinly sliced
Directions
Heat the oil in a large skillet over medium-high heat. Add the leeks and sauté until lightly browned, about 6 minutes. 

Add the sautéed leeks and any residual oil, garlic, potatoes, rosemary, salt, pepper flakes, and paprika to the 4-quart capacity slow cooker and stir to combine. Add the broth, cover with the lid, and cook on high for 4 hours (or low for 8 hours), until the potatoes are fork tender.

Stir in the yogurt. Puree the soup until velvety smooth using an immersion blender—or (in batches) in a regular blender. Keep warm in the slow cooker until ready to serve. Adjust seasoning to taste.

Ladle into bowls, sprinkle with the Gouda, hot pepper (if using), and scallions. Serve and enjoy!
Nutrition
Calories: 240kcal | Carbohydrates: 31g | Protein: 12g | Fat: 9g | Saturated Fat: 3.5g | Cholesterol: 20mg | Sodium: 700mg | Fiber: 2g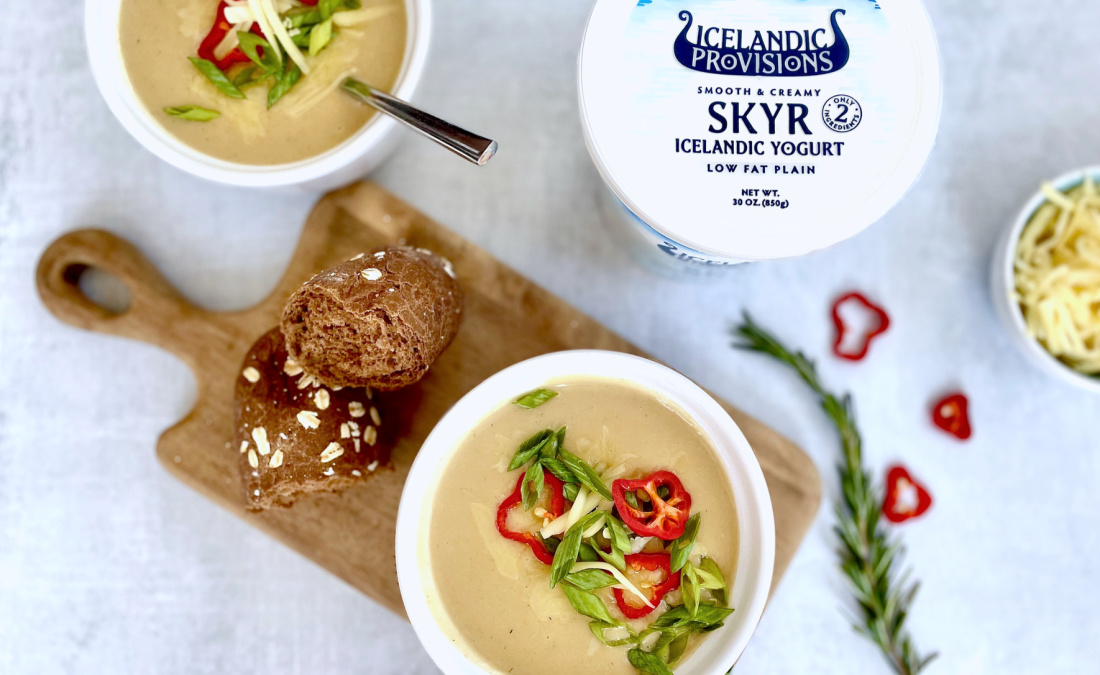 Try Another Skyr Recipe
Excited by the benefits of skyr? Continue your journey and try this Savory Icelandic-Inspired Skyr Board.