This Icelandic-inspired skyr recipe brings together savory flavors for a nutrient-packed and colorful addition to the table.
In this creation with Icelandic Provisions Low Fat Plain Skyr, the skyr is whisked with a drizzling of olive oil and sea salt and spread onto platter, then sprinkled with a mixture of mood-boosting ingredients. It can be enjoyed as an appetizer or snack board served with thinly sliced Icelandic rye bread (Rúgbrauð) or seeded crispbreads. 
Nutrition Benefits of Skyr
At the heart of this dish is Icelandic Provisions Low Fat Plain Skyr, a dairy product renowned for its rich protein content. One serving of Low Fat Plain Icelandic Provisions Skyr contains 14 grams of protein, 0 grams of added sugar, and 3 billion probiotics.
This makes it an excellent choice for those looking to increase their protein intake and support gut health. Additionally, skyr is low in fat and has no added sugar, making it a healthier alternative to many other traditional yogurts.
Mood-Boosting Benefits of the Ingredients 
The toppings in this recipe contribute not only to its vibrant colors but also to its nutritional profile.
Skyr – Skyr contains nutrients for mood and gut support, including calcium, probiotics, and protein. Everyone has a gut-brain connection, so eating foods that are good for your gut will also have a positive effect on your mental health.
Nuts & Seeds – Pistachios and pumpkin seeds are excellent sources of plant-based protein and healthy fats. They also contain magnesium, which can help reduce stress.
Bell Peppers – Diced roasted red bell pepper add a burst of vitamin C and dietary fiber. Vitamin C is a powerful antioxidant and can also help stabilize your mood, and dietary fiber supports the gut-brain connection.
What is the Difference Between Skyr vs. Yogurt?
There are three main differences between skyr and yogurt: 
The cultures used – Skyr is made of specific heirloom cultures from Iceland, which are what give the dairy product a creaminess rather than the more tart flavor of yogurt.
The texture – In comparison to yogurt, including Greek yogurt, skyr has a thicker and creamier texture. When you scoop a spoonful, you'll see it maintain its shape and sit firm on your spoon for the perfect bite.
The nutrition – To top it off, skyr is rich in protein and. Most yogurt has less than 9 grams of protein per serving, though Greek yogurt is somewhat comparable to the skyr protein content. The flavored varieties also have 30% less sugar than the other flavored yogurts.
What to Mix into the Skyr for a Savory Flavor
To enhance the creamy skyr's flavor and texture, a drizzling of olive oil is added, along with a pinch of sea salt. This not only brings a subtle richness to the dish but also provides essential healthy fats and minerals. Olive oil offers a range of antioxidants and anti-inflammatory properties.
What to Pair With This Savory Skyr Board
To complete this skyr creation, pairing it with thinly sliced Icelandic rye bread (Rúgbrauð) or seeded crispbreads. These choices provide complex carbohydrates and fiber, promoting satiety and digestive health.
Together, the combination of skyr and its accompaniments in this recipe creates a balanced and nutrient-packed dish that both delicious and beneficial for your overall well-being.
---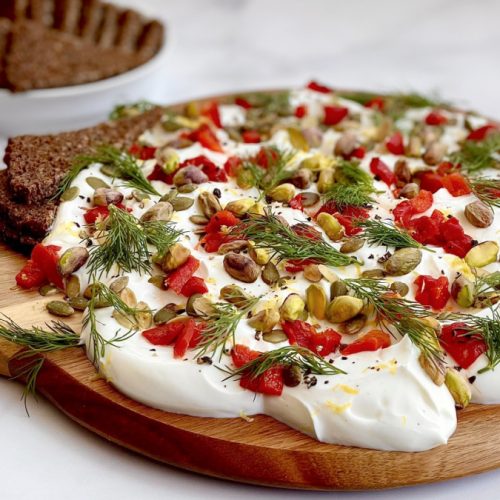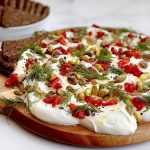 Prep Time 12 minutes
Total Time 12 minutes
Ingredients
2 1/2 cups Icelandic Provisions Low Fat Plain Skyr
1 1/2 tablespoons extra-virgin olive oil
1/2 teaspoon sea salt, or to taste
2 tablespoons salted roasted pumpkin seeds (pepitas)
3 tablespoons finely diced roasted red bell pepper, jarred or freshly roasted
3 tablespoons shelled salted roasted pistachios 
1/4 cup loosely packed small fresh dill sprigs
Grated zest of one small lemon
Freshly cracked black pepper, to taste
8 ounces thinly sliced Icelandic-style rye bread (Rúgbrauð), cut into large bite-size triangles, or seeded crispbreads
Directions
In a medium bowl, vigorously stir together the Icelandic Provisions Low Fat Plain Skyr, olive oil, and salt. Adjust seasoning, if desired.

Spread the skyr dip onto a platter or cutting board. (Tip: One spoonful at a time, dollop onto platter and then spread each dollop using the spoon's tip.)

Sprinkle with the pumpkin seeds, red pepper, pistachios, dill, and lemon zest. Add black pepper to taste.

Serve with pieces of rye bread or crispbread. 
Nutrition
Calories: 220kcal | Carbohydrates: 25g | Protein: 12g | Fat: 8g | Saturated Fat: 1.5g | Cholesterol: 10mg | Sodium: 440mg | Fiber: 3g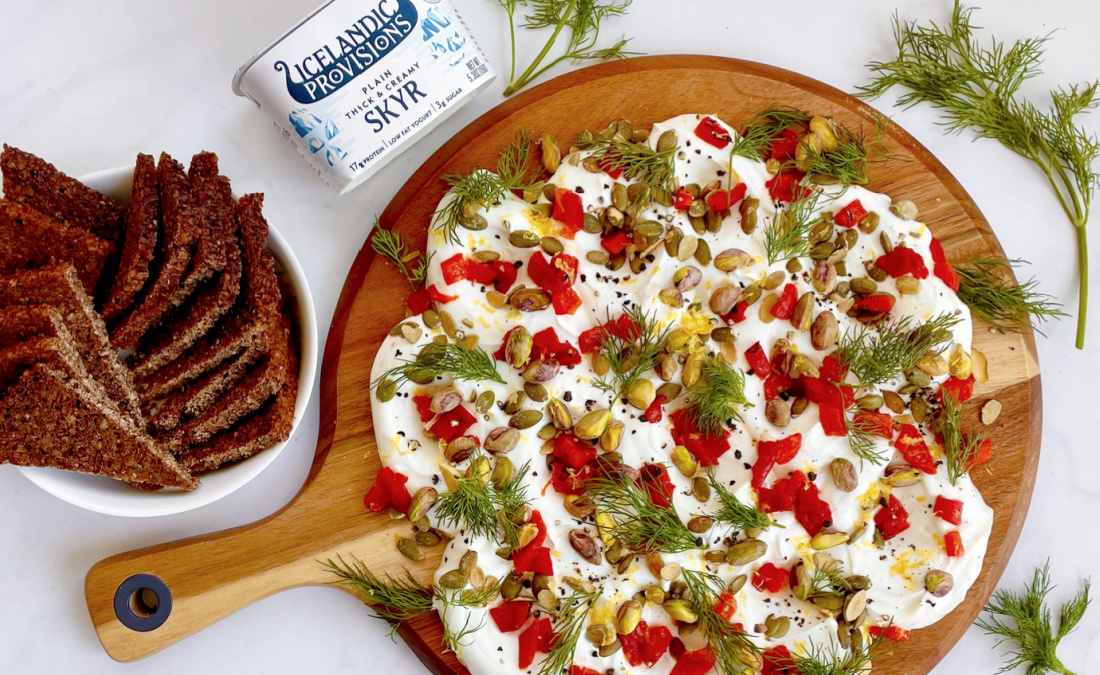 Try Another Skyr Recipe
Interested in exploring more ways to enjoy skyr? Try this Creamy Slow Cooker Potato Leek Soup with Skyr.