Staying hydrated is key in the summer months, and what better way to stay hydrated than with this Easy Strawberry Pomegranate Mojito?!
Mojitos are a beverage choice that can take on a lot of different flavors. This variation is a delicious choice for the warmer months, and can also be dressed up for patriotic festivities.
Pomegranate Juice for Pomegranate Mojitos
Using pomegranate juice in this summertime mojito is a great way to add a boost of nutrition and natural sweetness. 100-percent pomegranate juice contains antioxidants that fight free radicals that can do damage to the body's cells.
An in vitro study at UCLA found 100-percent pomegranate juice has more antioxidant potency than red wine, Concord grape juice, or green tea, on average.
So, this combo mixed with the extra nutrients of the strawberries make this an elevated drink choice.
How to Make a Pomegranate Mojito
To make this drink, simply muddle together some strawberries and mint with a little sugar. Then add some ice, and stir in the star ingredient: 100% pomegranate juice. Next, add some lime juice, seltzer, and garnish with pomegranate arils and mint leaves. 
How to Decorate these Mojitos for the Summer Holidays
This drink is a festive option for the 4th of July or Memorial Day. Simply add blueberries on top, or add blueberry skewers, top with some apple stars, and garnish with fun straws.
Cheers to your health!
---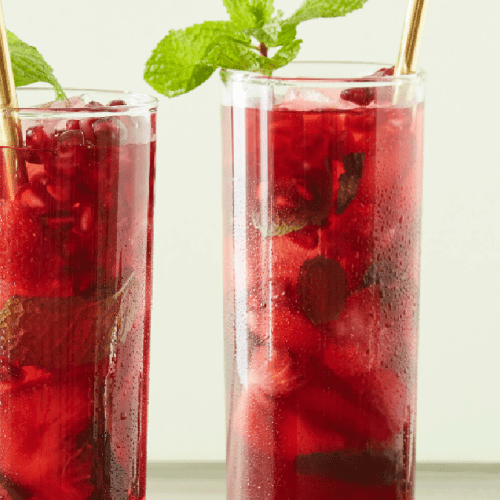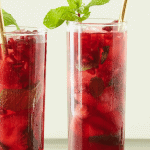 Prep Time 5 minutes
Cook Time 5 minutes
Ingredients
2 strawberries, sliced
8 mint leaves, plus more for garnish
2 teaspoons turbinado sugar
1/2 cup ice, adjust as desired
1/2 cup 100% pomegranate juice
2 tablespoons fresh lime juice
2 ounces rum (optional)
1/2 cup seltzer
2 tablespoons pomegranate arils, for garnish
1 lime, for garnish
Directions
Divide strawberries, mint, and sugar between 2 glasses and muddle together. Fill glasses half full of ice. Add half the 100% pomegranate juice, lime juice, and rum (optional) to each glass, then top off with seltzer and stir.

Garnish with pomegranate arils, lime, and mint. Enjoy!

Recipe and image courtesy of POM Wonderful.
Nutrition
Calories: 70kcal | Carbohydrates: 8g | Protein: 0g | Fat: 0g | Saturated Fat: 0g | Cholesterol: 0mg | Sodium: 0mg | Fiber: 0g
Note: Nutrition information includes rum. Drinks without rum are 35 calories and 8 grams of carbohydrate per serving.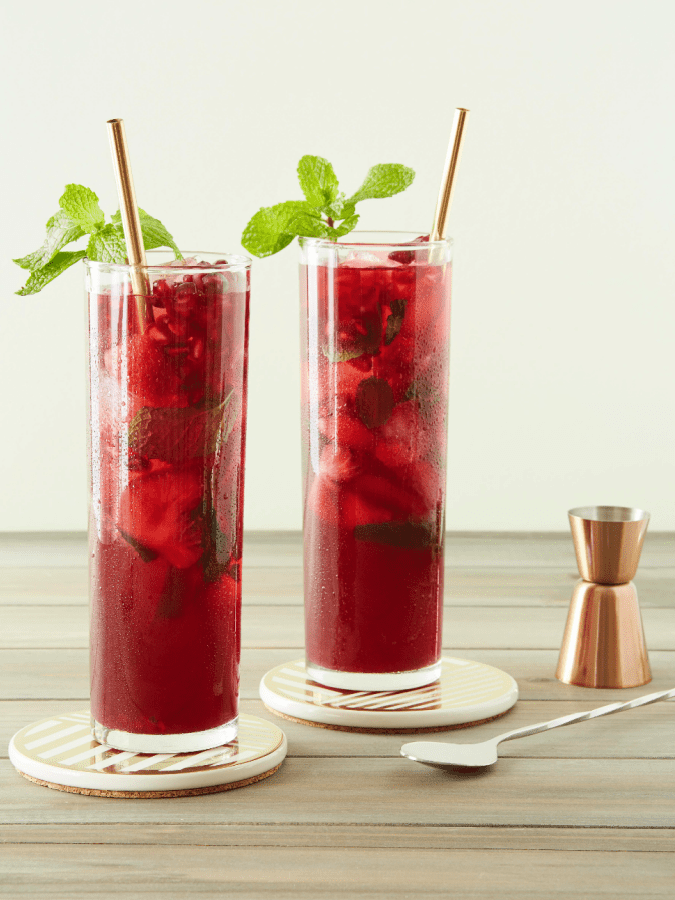 Looking for another nutritious pomegranate drink option? Try a Pomegranate Ginger Mojito Mocktail.