Recipe excerpt from my book, From Burnout to Balance: 60+ Healing Recipes & Simple Strategies to Boost Mood, Immunity, Focus & Sleep, copyright © 2022 by Patricia Bannan. Recipe used by permission of Rodale Books, an imprint of Random House, a division of Penguin Random House, LLC, New York. All rights reserved. Order your copy today!
Pancakes can be overly processed and loaded with refined sugar. Not here! These hearty pancakes are based on whole-grain oats, so they're gluten-free, filling, and offer health-promoting soluble fiber. They're also surprisingly fluffy and sweet from the pure maple syrup and fresh pears.
And while pancakes are a delicious brunch, this recipe is effortless enough to whip up on a weekday, especially if you measure most ingredients in advance. The batter is simply whirled together in a blender all at once.
Time Savers for These Fluffy Oat Pancakes:
If you don't have pears, fold in or top with any fruit you have on hand—berries, apple, banana—or even use mini dark chocolate chips.
Ingredient Substitution Tip:
No buttermilk, no problem! Simply mix 2 tablespoons white vinegar or lemon juice with enough milk to measure 1 3/4 cups. Allow the mixture to sit for 5 minutes before using.
This Recipe Is:
Vegetarian
Gluten-Free (use certified gluten-free oats)
Kid-Friendly
30 Minutes or Less
---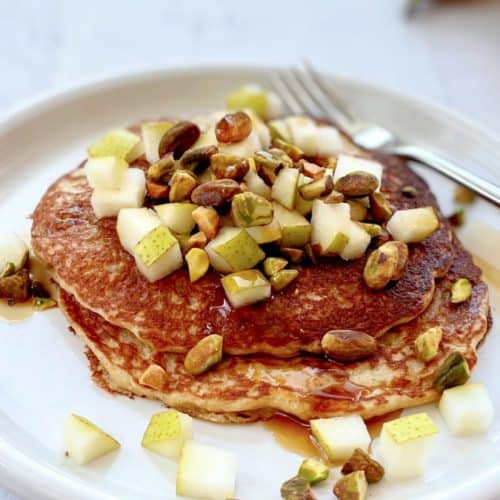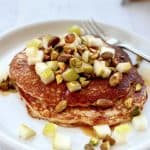 Prep Time 10 minutes
Cook Time 15 minutes
Ingredients
1 3/4 cups low-fat buttermilk
2 large eggs
1 tablespoon maple syrup
1 teaspoon pure vanilla extract
2 1/4 cups old-fashioned rolled oats
1 1/2 teaspoons baking powder
1 teaspoon baking soda
1/4 teaspoon sea salt
2 tablespoons sunflower oil
1 large pear (with peel), cored and finely diced
1/4 cup maple syrup
Supercharger: 1/4 cup shelled, lightly salted roasted pistachios, chopped (optional)
Directions
In order, place the buttermilk, eggs, maple syrup, vanilla, oats, baking powder, baking soda, and salt in a blender and puree on high speed until smooth, about 2 minutes. Let mixture stand for 5 minutes. (Makes 3 cups batter.)

Meanwhile, heat the oil on a stick-resistant griddle or in a large (12-inch or larger) skillet over medium heat. In batches, pour or ladle the batter onto the griddle, using 1⁄3 rounded cup of batter for each pancake. Cook until the pancakes are set along the sides and golden brown on the bottom, about 21⁄2 to 3 minutes. Carefully flip with a thin spatulaand cook on the other side, about 2 minutes longer. Repeat with the remaining batter.

Transfer the pancakes to plates, sprinkle with the pears, maple syrup, and, pistachios (if using), and serve.
Nutrition
Calories: 330kcal | Carbohydrates: 47g | Protein: 10g | Fat: 12g | Saturated Fat: 2g | Cholesterol: 95mg | Sodium: 840mg | Fiber: 4g