This easy-to-make satisfying avocado pineapple green smoothie replenishes with the right balance of fruits, vegetables, and healthy fats.
Smoothies are one of the easiest ways to fill up on natural energy boosters and antioxidant-rich foods like fruits and vegetables with minimal prep. They give you the boost you need without the stress of cooking or ordering out, making mornings or those mid-day slumps that much more manageable.
This avocado pineapple green smoothie is perfect for post-workout, post-beach, or post any activity in warmer temperatures. Why? Because it replenishes with the right balance of fruits, vegetables, healthy fats, and hydration. Toddlers, teens, and even the pickiest eaters will agree on one thing: you totally can't taste the greens in this blend. 
Coconut Water Benefits
Like all smoothies that are equal parts tasty and nutritious, this one starts with a base you can feel great about: coconut water. It has more potassium than four bananas! Plus, it has antibacterial and antimicrobial properties that can help support immunity. It even offers a subtly sweet taste that successfully masks any trace of leafy greens from the biggest vegetable skeptics (We all know one, right?).
Pineapple and Banana Benefits
When adding sweetness to smoothies, skip on refined sugars and score fiber points with fresh or frozen fruits. This recipe calls for three of my favorites: pineapple, orange, and banana. Pineapple is one of nature's best digestive enzymes. It contains bromelain, a group of enzymes that break down protein, making it easier for us to absorb nutrients from food and even aiding in digestive disorders that can cause stomach upset. Bananas are also easily digestible, contain soluble fiber, and are a great carbohydrate source. When paired with healthy fats like avocado, they can help us feel fuller for longer.
Best of all, this recipe makes two servings, which means splitting with your friend, family member or significant other is that much easier. Blend, pour, sip, and share this recipe the next time you're in need of a satisfying treat.
---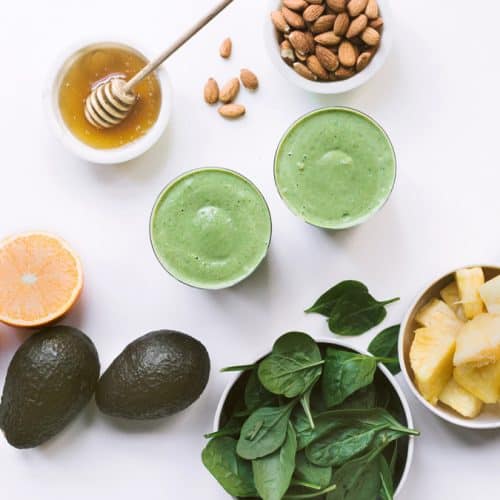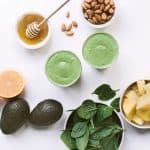 This Avocado Pineapple Green Smoothie replenishes with the right balance of fruits, vegetables and healthy fats.
Ingredients
1 cup 100% pure coconut water
3/4 cup spinach
1/2 medium avocado
1 cup fresh ripe pineapple chunks
1 medium frozen ripe banana
1/2 orange
15 whole raw almonds
2 teaspoons honey
1 cup ice
Directions
Combine the coconut water, spinach, avocado, pineapple chunks, banana, orange, almonds, and honey and process until smooth. Add ice cubes, as needed, and blend until desired consistency is reached.

Pour into two glasses and enjoy immediately.
Nutrition
Calories: 250kcal | Carbohydrates: 42g | Protein: 4g | Fat: 10g | Saturated Fat: 1g | Cholesterol: 0mg | Sodium: 40mg | Fiber: 7g