I'm delighted to have partnered with Tropicana on this blog post. All opinions are my own.
Find out what antioxidants do in the body, their benefits, and easy ways to add more antioxidant foods and drinks into your diet.
You may know that antioxidants are good for your health, but why exactly? Here is a closer look at why they are so powerful, and why you don't want to miss out on all of the delicious ways to incorporate them into your diet.
What Do Antioxidants Do?
You may know antioxidants are good for you, but what do they actually do? These substances help to prevent and/or delay cell damage caused by free radicals. These unstable molecules result from many every day exposures (such as digesting food, exercise, air pollution, and sunlight). Free radicals can damage cells and may play a role in heart disease, cancers, and many other diseases. Antioxidants work to fight off free radicals, and thus help to prevent cell damage and potential health implications that come with them.
Related Reading: Foods to Beat Inflammation.
Antioxidants Benefits
Some antioxidants are actually vitamins that you're probably already aware of, including vitamins A, C, and E. Many others fall into the phytochemical category or compounds found in plants. Here are some of the benefits found in each.
Vitamin A – A nutrient important for eye health, reproduction, and immunity.
Vitamin C – Its immune-supporting benefits may be widely known, but vitamin C also plays a role in certain types of cancer, eye health, heart disease, and iron absorption.
Vitamin E – This vitamin can help protect against heart disease, certain types of cancer, and also supports eye health, immunity, and skin health.
Carotenoids – Phytochemicals found in red, orange, and yellow-colored fruits and vegetables that support heart health, eye health, and immunity.
Flavonoids – Compounds that can be found in many fruits and vegetables, and can help reduce inflammation, support heart health, and help hormonal balance.
Polyphenols – Most commonly found in dark chocolate and berries, polyphenols can support digestion, brain health, and heart health.
Antioxidant Foods
Many foods are natural sources of antioxidants that can be included in the diet. These foods also come with some impressive health benefits.
Berries – Some research has shown that berries are one of the highest sources of antioxidants compared to other commonly consumed fruits and vegetables.
Red Cabbage – The brightly colored red cabbage contains as much as four times as many antioxidants as regular cooked cabbage. 
Leafy Greens – Vegetables like kale, spinach, and collard greens contain the antioxidant kaempferol, which may have cancer-fighting properties.
Dark Chocolate – If you're a chocolate lover, you're in luck. Dark chocolate is rich in antioxidants, and can even help lower blood pressure and cholesterol.
Walnuts – With higher antioxidant activity than any other common nut, walnuts may also help to lower blood pressure, and manage weight.
Red Grapes – This bite-sized fruit contains anthocyanins, antioxidants that help give grapes, and other purple and blue-hued produce their color, which also may help protect against heart disease, and certain types of cancer.
Get a boost of antioxidant-rich berries & dark chocolate in this Chocolate Chunk Blueberry Smoothie.
Antioxidant Juice & Other Antioxidant Drinks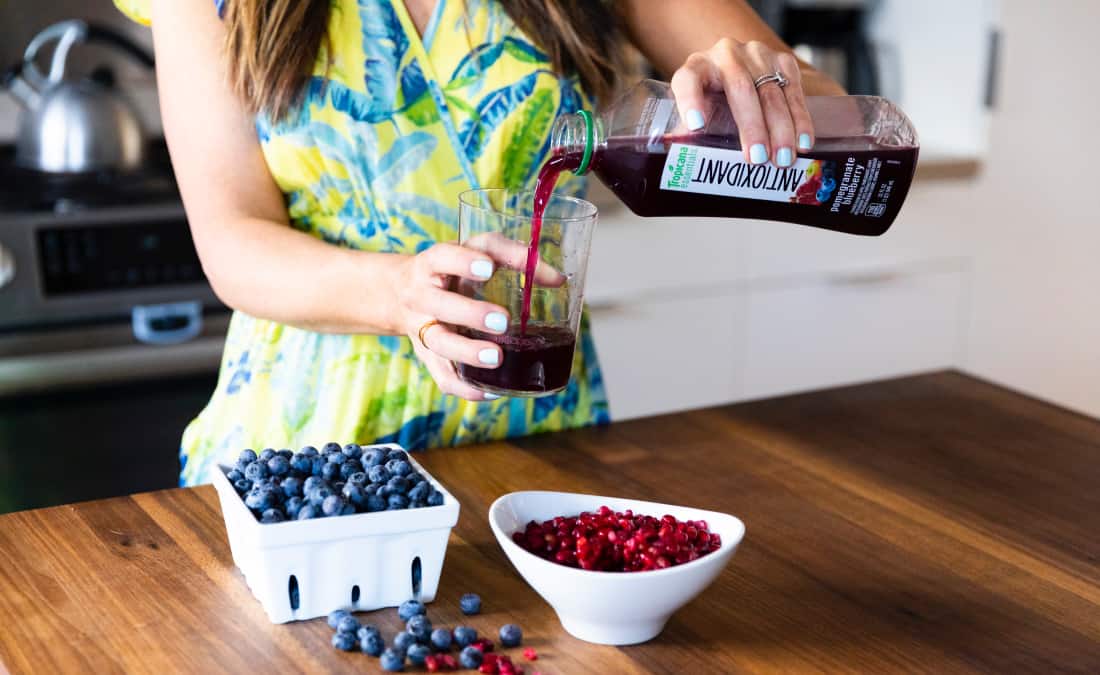 Foods aren't the only sources of antioxidants in the diet. Antioxidants can be found in beverages, too. Here are some drinks to boost your antioxidant intake.
Which of these antioxidant-rich foods and beverages are your favorite? Leave a message below, I'd love to hear!